Review: Super Air Nautique G23
---
The Super Air Nautique G23 is a stunning-looking boat with a ride to suit the most demanding watersports enthusiasts. If you're looking for the best of the best in this specialised field, this is the boat for you.
The name Nautique is familiar to all serious wakeboarders and wake surfers, and the Super Air G23 is aiming to be the best of the best. It boasts an all-new hull design redirecting the water flow and claiming to produce the industry's best surf wave and wakeboard wake. We just had to head out to Lake Karapiro to see if this rocket could back up the claims.
The requirements of competition-level watersports are totally different to other boating activities, so conventional hull designs don't apply.
Super Air Nautique G23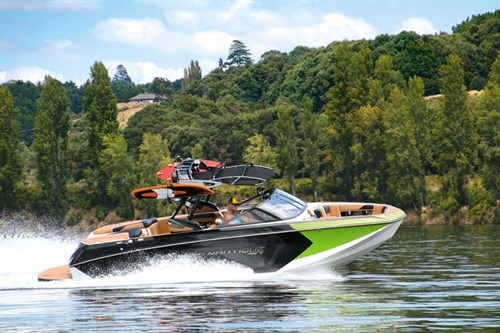 The Super Air Nautique G23 has a stepped hull with a profile unlike anything a seagoing boat would require. Where most boats aim to slice through water as efficiently as possible, a wakeboard boat deliberately moves large volumes of water to create controllable waves.
The previous version of the Super Air Nautique G23, released in 2013, claimed to have changed wakeboarding boat design. It won US magazine WakeWorld's Wakesurfing Boat Of The Year in 2014 and '15 as well as Riders' Choice Wakeboarding Boat Of The Year in 2013, '14 and '15. The challenge to Nautique was to add enhanced wave-surfing capabilities to the 2016 model without compromising this legacy.
Subtle changes to the 2016 Super Air Nautique G23 hull include a steeper stem angle that cuts through the water while new spray diffusers give an even drier ride than before. A standard feature on all G series boats is the controllable running surface (NCRS), a single adjustable running surface plate that creates stern lift at low speeds to get up on the plane quickly. It also works to shape the wake and helps drive the boat through tight turns without losing lift.
Also standard on the Super Air Nautique G23 is the Nautique Surfpipe, which directs the engine exhaust out into the prop stream to keep it away from the surfer. Lastly, this new model has enhanced 3D gel lines on the side of the hull for added visual appeal, particularly when combined with the eye-catching graphics package.
Nautique Surf System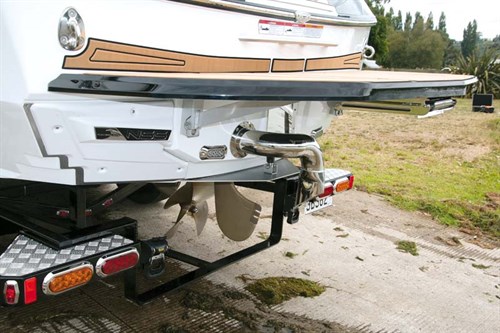 The secret to the massive surfing wave that the 2016 model G23 can create is the Nautique Surf System (NSS) waveplates. These stepped plates, fully integrated into the transom, deploy outwards and downwards from either side of the hull, instantly creating a wave without needing to adjust the ballast or move people around the boat. They are controlled by the electronic control system or an optional Surfswitch waterproof remote, and can be used to customise the wave shape on either side of the boat independently. They also deploy rapidly, allowing the surfer to swap from side to side as the wave is switched over.
Access and seating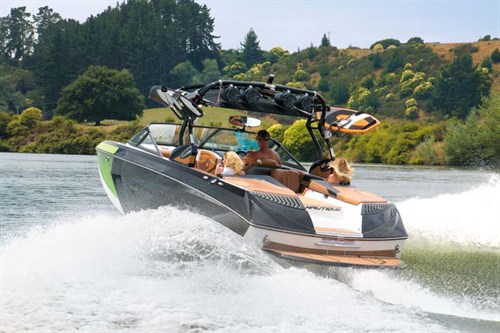 The interior of the boat has been optimised for moving around, with a walkthrough between the main cabin and the bow lounge. A massive walkthrough over the transom enables riders to simply step over the rear seats onto the boarding platform. All walk-on surfaces are covered in the smart non-slip C-Deck EVA system which provides secure footing even when wet.
Huge hatched storage bins on either side of the stern hold all those water toys, and are big enough to handle half a dozen boards or any number of buoyancy vests, tow ropes and other accessories each. A clever system of channels around the compartments keeps any incidental water from flowing in.
This is a big boat, with a capacity up to 16 people, and features seats luxuriously upholstered in waterproof vinyl. The wrap-around couches include a number of reversible options to allow some occupants to face the rear and watch the riders, while the race-car style helm seat has been designed to support a range of seating and standing positions.
Marine electronics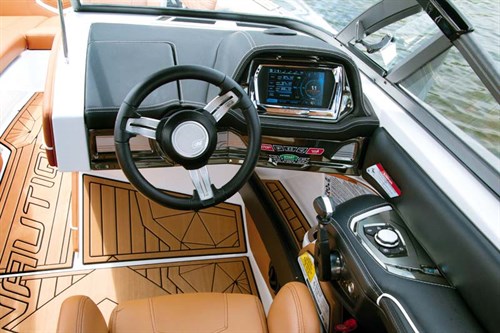 The LINC touchscreen integrated electronics package fitted to Nautique boats is simply stunning. This is no mere aftermarket add-on but an integrated display that controls all essential systems on board – GPS, engine, waveplate, ballast tanks and stereo are all controlled through this intuitive touch interface. A separate control knob and buttons, similar to the controls in modern luxury cars, are located in the wide armrest as an alternative interface.
Watersports are social activities so a booming sound system is mandatory. The boat we reviewed came with the M-series Studio Elite sound system, a package that includes six speakers in the interior, two 10-inch sub-woofers, two amplifiers and zone control. The wakeboard tower has a further four massive speakers, directed at the wakeboarder. The sound quality was superb and, combined with the LED lighting and recessed illuminated drink holders, creates a sublime entertaining experience on the water.
Ride and ballast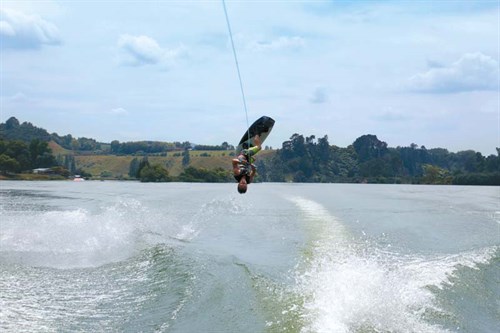 Wakeboarding and wake surfing in particular require a consistent big wave behind the boat. The only way to produce that is with weight, which the G23 achieves through up to 1.3 tonnes of water in three ballast tanks. By selectively filling tanks on either sides or in the bow and combining this with the NSS system, the wave can be custom-shaped to suit each surfer.
Ballast control is via the LINC unit, with a visual indicator showing how much water is in each tank. Electric pumps fill or empty the water on demand, allowing the hull to be set to the perfect position for maximum wake effect. A complete fill takes only a few minutes; at the end of the day the tanks can be pumped out or drained once back on the trailer.
Tower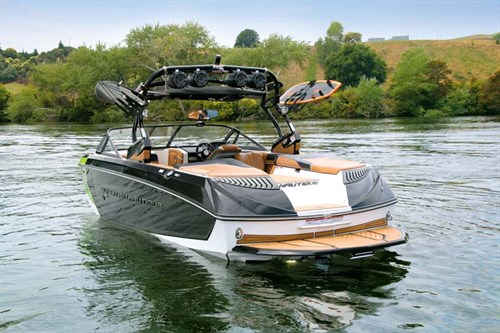 Wakeboard boats are dominated by their towing towers and the Super Air Nautique G23 is no exception. A robust four-point mount distributes the load while maintaining rigidity and eliminating rattles. The design puts the tower's weight over the mounting points, reducing stress on the hull, while two movable racks holds a variety of surf or wakeboards.
Engine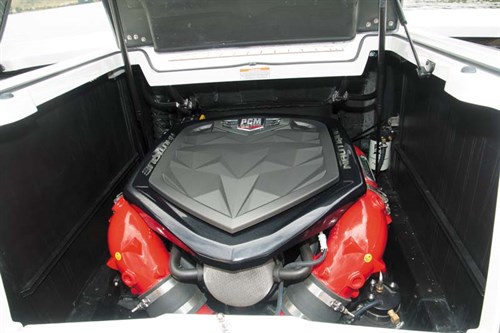 Creating huge wakes involves disrupted water flows, and that takes horsepower – lots of it. The Super Air Nautique G23 is available with three engine options – a 355hp PCM-H5DI, the 450hp H6-DI tested here, and a supercharged 550hp XS7. All are based on GM V8 blocks of differing displacements; the review boat is a direct-injection 6.2-litre donk and with performance enhancements Pleasure Craft Marine (PCM) has coaxed an astonishing 630Nm (465lb-ft) from it – that sort of torque is usually associated with big diesels.
All that torque means the G23 can spin a high-efficiency 17-inch four-blade prop, enabling stunning holeshots even when heavily loaded. All-up, including full ballast tanks, she's close on four tonnes; add 16 passengers and it's serious weight. While the H6DI is capable of handling all this, it's no surprise there's a bigger 550hp supercharged option available.
On the water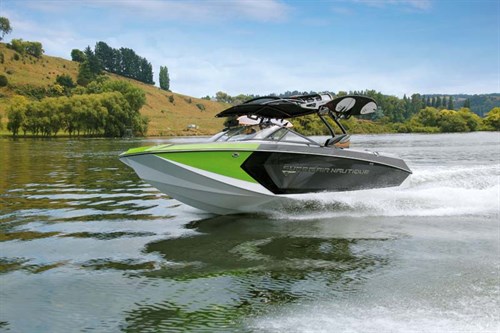 These boats primarily live in fresh water (although all Nautique boats include saltwater-resistant features), so we chose the Piarere Water Ski Club on Lake Karapiro as the ideal venue for this test. Mike Wortman, sales manager for Nautique NZ out, organised some local boarding experts and we took the boat out to play.
There's something about the sound of a V8 at full roar that can't be duplicated by any other motor and getting this boat up to speed certainly gets the adrenalin going. We headed out to a quiet patch of the lake for photos, before putting the boat
through its paces.
On most boat reviews the reviewer has all the fun while the others are just along to drive. Not on this test! Cole Mossman, a member of the Nautique wakeboarding team, was having a ball out on the water, while I was taking pictures. We started with Mossman proving just how good the wake shape was, with repeated barrel rolls and flips that looked effortless. There's no doubt this boat excels at what it does, and his two female admirers who came along enjoyed proceedings just as much from the comfortable seats.
Controlling the NSS and shaping the wave proved to be easy – if not as much fun as our second expert, Shane Verhoeven, had while surfing the waves we created during the second part of the test. The NSS system proved to be everything it claimed, creating a large, consistent and completely customisable surf wave. The LINC control system made it easy to adjust the ballast and controls surfaces, while the GPS allowed pin-point control over speed and direction.
All too soon it was time to head home, although the guys would no doubt have been happy to carry on.
The Trade-a-Bot verdict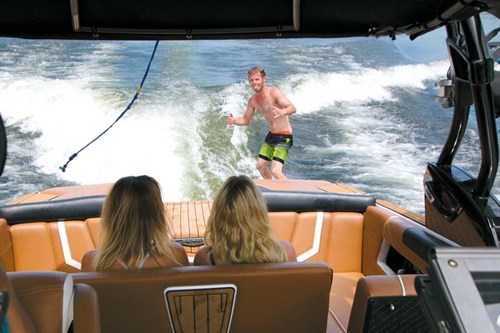 The boat, from bow to stern and including engine, comes with a five-year warranty. The galvanised and braked trailer is painted, adding to the total visual impact of the package. With a beam of 2.59m this boat is fractionally over-wide for NZ towing regulations but can be legally towed under specified conditions.
This is clearly a highly specialised boat, designed for a single purpose, and naturally has a limited market. But, within that market it is arguably the best that money can buy, and we were impressed by the superb workmanship from stem to stern. As a bonus, this test was heaps of fun to do! 
HIGHS
• A standard of finish to die for
• Everything is beautifully integrated
LOWS
• Not a cheap option
Super Air Nautique G23 specs
Super Air Nautique G23 price: $216,000
Priced from (braked and painted twin-axle trailer)
OPTIONS FITTED
Design package; bimini with Z5 storage rack; road cover; M-series stereo package; walkthrough pocket door; colour options
GENERAL
TYPE Wakeboarding / watersports boat
MATERIAL fibreglass
LENGTH 7.01m (23ft)
BEAM 2.59m (8ft 6in)
DRAFT 0.64m
WEIGHT 2676kg (dry)
CAPACITIES
PEOPLE 16
FUEL 246L underfloor tank
ENGINE
MAKE/MODEL H6 direct injection V8 by PCM
TYPE Four-stroke petrol inboard
RATED HP 450; 630Nm torque
DISPLACEMENT 6.2 litres (376ci)
GEAR RATIO 2.0:1
PROPELLER ACME 2561 17x17 four-blade Nibral
MORE INFORMATION
Nautique NZ
15 The Boulevard
Te Rapa, Hamilton
Phone 0800 SKIBOAT
Web nautiquenz.co.nz
See the full version of this review in Trade-A-Boat #264, on sale March 24, 2016. Why not subscribe today?
Keep up to date with news from Trade-A-boat or like us on Facebook!