Review: Surtees 610 Game Fisher
---
See how the Surtees 610 Game Fisher performs. It's nothing less than the gate prize at the 2016 Hutchwilco NZ Boat Show.
Whakatane-based Surtees Boats builds hundreds of boats each year, exporting a significant number to Australia and around the Pacific. It has won almost too many awards to count, including Aluminium Fishing Boat Of The Show for eight of the past 14 Hutchwilco New Zealand Boat Shows. It's also racked up several awards in Australia and numerous export awards.
It's on this pedigree that the 610 Game Fisher – one of Surtees' best-selling models – has been offered as the gate prize for the boat show. This model sits right in the sweet spot, big enough for extended offshore trips but small enough to be easily managed and towed around town.
Released in 2015, the 610 Game Fisher was the natural evolution of one of the previous popular models, the 5.8. By extending the cockpit volume while retaining a hardtop cabin configuration, the 610 Game Fisher gains in fishability without sacrificing much in terms of ease of handling.
Surtees 610 Game Fisher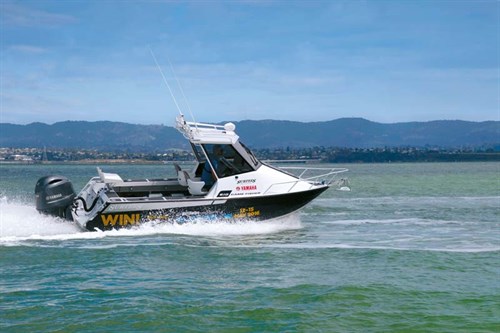 This boat is configured for serious fishing, hence the emphasis on an uncluttered fishing area with only two seats installed – these are pedestal-mounted for the skipper and passenger. Additional passengers can either stand while travelling or sit on the gunwales but additional seating is available to buyers, including removable seating that's part of Surtees ingenious clip-on system. Numerous handholds ensure everyone is safe while the boat is moving.
While the forward cabin is carpet-lined and has full-length squabs and an infill, it's more suitable for storage or an afternoon snooze than an extended overnighter. There's space under the centre squab for an optional electric toilet, and plenty of storage space in parcel shelves and under the berths. A large hatch provides access to the chain locker on the forward deck, where a Stressfree drum winch takes care of the anchoring duties.
Layout and design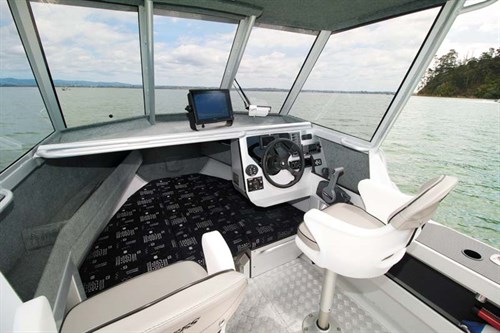 The pedestal-mount seat with removable cushions is sturdy, and standing and seated positions are comfortable. When seated, a welded footrest along the edge of the bunk provides a comfortable leg position. The huge 12-inch Garmin 7412X touch-screen chartplotter and fishfinder unit isn't what you'd normally expect fitted in a six-metre boat but this is the ultimate prize and no expense has been spared. Since it's oversized it can't be flush-mounted and instead is located on a bracket on top of the dash and offset slightly to the left, a great position for viewing the screen even while fishing further back in the cockpit.
A single Yamaha Command Link electronic display provides a customisable digital display for all engine functions, including revs and fuel consumption. The dash area is jammed full of features making it fairly busy – not that the lucky winner will mind, with all these gadgets within easy reach at the helm.
Cockpit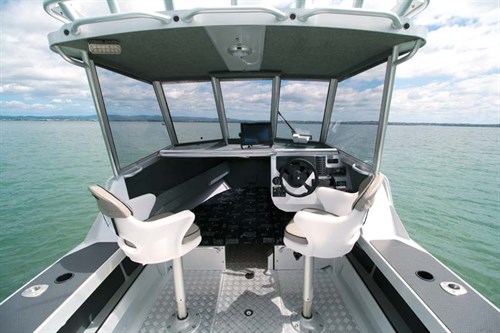 In a word – space! The cockpit is simply a huge open space, devoid of anything to trip over or that will get in the way when you're fighting the big one. The broad gunwales are well populated with rod holders, most with an accompanying utility holder for drinks, sinkers or jigs. The deck surface is non-slip chequerplate and it's not uncarpeted, so no worries about messing it up with bait or fish blood.
Under the broad transom is a large recess that can easily swallow dive cylinders or tackle boxes. A plumbed livebait tank is located under a hatch in the port-side transom step-through and a substantial baitboard, with three further rod holders, fits into a socket in the transom. Surtees' usual transom hatch cover flips down to form a useful bench seat when required, revealing the batteries and switches when open and keeping them safe and dry when closed.
Handling and ride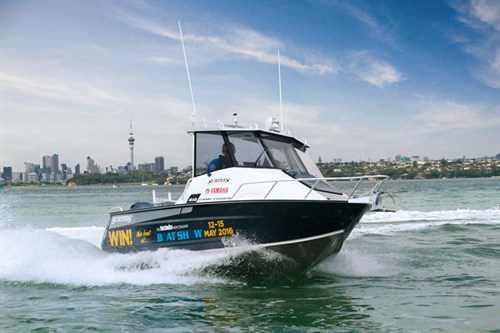 Most boat hulls are a compromise; a deep V provides the softest ride but is less stable at rest while a shallow deadrise angle creates a more stable platform when not moving but tends to pound through a hard chop.
The Surtees design manages to achieve the best of both worlds thanks to the flooding keel, also known as stabilising ballast. This clever design is incorporated into a soft-riding deep-V hull profile that's light and easily driven, slicing through waves efficiently rather than lifting over them. However, when you come to a stop, this chamber fills with water and the extra weight (340kg in the 610 Game Fisher) helps settle the boat, damping motion and creating stability. The application of power causes the water to drain away within a few seconds and the boat rises rapidly onto the plane.
This gives the Surtees one of the softest rides for its size on the market, without compromising on that important comfort while at rest. A manually controlled shut-off gate gives the ability to hold the extra ballast on board – in very rough conditions, extra weight can be an advantage, helping cut through waves rather than bouncing over everything. Conversely, before retrieving the boat at a shallow ramp, the gate can be closed while the chamber is empty, giving a few more inches clearance beneath the hull and easing the retrieval.
The Yamaha 150hp outboard fitted to the show's prize boat is at the top end of the recommended power range and well suited to this hull. With power to spare, the emptying of the ballast tank is almost imperceptible as you push the hammer down. The hydraulic steering is light but positive and the boat can be thrown about with complete confidence.
We managed to find a ship creating a massive wake and used that to launch the 610 into the air. The lack of planing strakes was shown in the relatively soft landing that greeted us. All Surtees boats also feature an ultra-strengthened deck system with full-length underfloor stringers, and this was apparent in the rigidity of the hull and lack of a crash as we landed.
The Trade-a-Boat verdict
All these features translate into a fantastic ride, which is one reason why Surtees has a long waiting list for all of its models. Fishermen on both sides of the Tasman appreciate how well this boat handles in all manner of conditions – this is clearly not just a fair-weather a boat. 
HIGHS
• Fantastic fishing machine
• Flooding ballast provides good stability at rest
LOWS
• Dashboard is too small to fit large electronics
Surtees 610 Game Fisher sea trials
Single 150hp Yamaha four-stroke outboard motor, two people on board, 75 per cent fuel load, 150L fuel tank – calculations made using 135L, 10% reserve.
| | | | |
| --- | --- | --- | --- |
| RPM | Speed (kt) | L/h | Range (nm) |
| 1000 | 3.8 | 1.9 | 262.7 |
| 1500 | 6.5 | 4.8 | 182.5 |
| 2000 | 8.1 | 7.5 | 145.9 |
| 2500 | 11.4 | 13.1 | 116.8 |
| 3000 | 16.2 | 15.0 | 145.9 |
| 3500 | 21.1 | 20.5 | 138.6 |
| 4000 | 25.4 | 29.4 | 116.8 |
| 4500 | 28.6 | 40.8 | 94.9 |
| 5000 | 31.4 | 48.3 | 87.6 |
| 5200 | 33.5 | 62.0 | 73.0 |
* Sea-trial data supplied by the author.
Surtees 610 Game Fisher specs
Surtees 610 Game Fisher price: $66,500
Priced from
OPTIONS FITTED
Fusion iPod stereo; Marinco wireless remote-control search light; Garmin 7412X Chartplotter/fishfinder; Garmin VHF; Stress Free drum winch; Auto-retract trim tabs; Balex self-loading trailer system
VALUE OF SURTEES 610 GAME FISHER GATE PRIZE
Over NZ$100,000 with all the toys
GENERAL
Material Aluminium
Type Hardtop fishing boat
Length 6.10m
Beam 2.26m
Weight 1300kg
Hull thickness 5mm
Side thickness 4mm
CAPACITIES
People (night) 2 (day) 6
Fuel 150L underfloor
Recommended HP 100-150
ENGINE
Make/model Yamaha F150
Type Four-stroke petrol outboard motor
Rated HP 150
Displacement 2670cc
Weight 223kg
Gear ratio 2.0:1
Propeller Reliance series 18x14.25 four-blade stainless
MANUFACTURED/SUPPLIED BY
Surtees Boats Limited
2909 S/H 30,
RD2, Whakatane, 3192
Phone (07) 322 8461
See the full version of this review in Trade-A-Boat #265, May 2016. Why not subscribe today?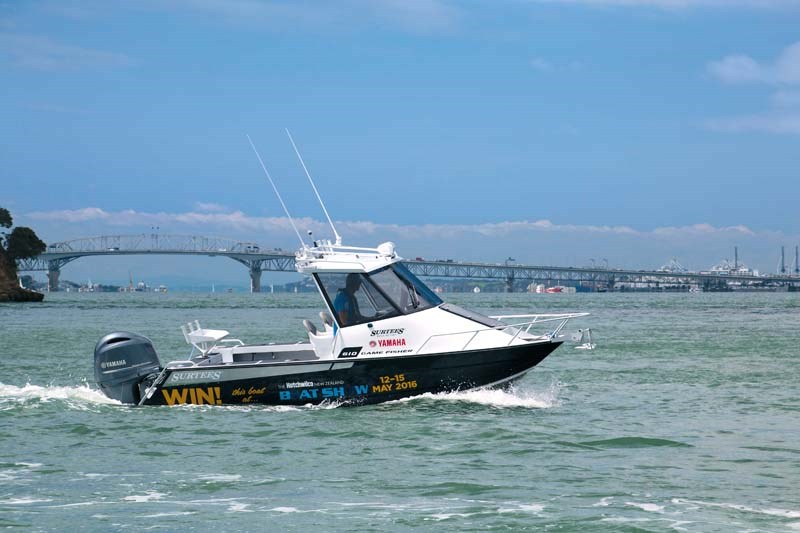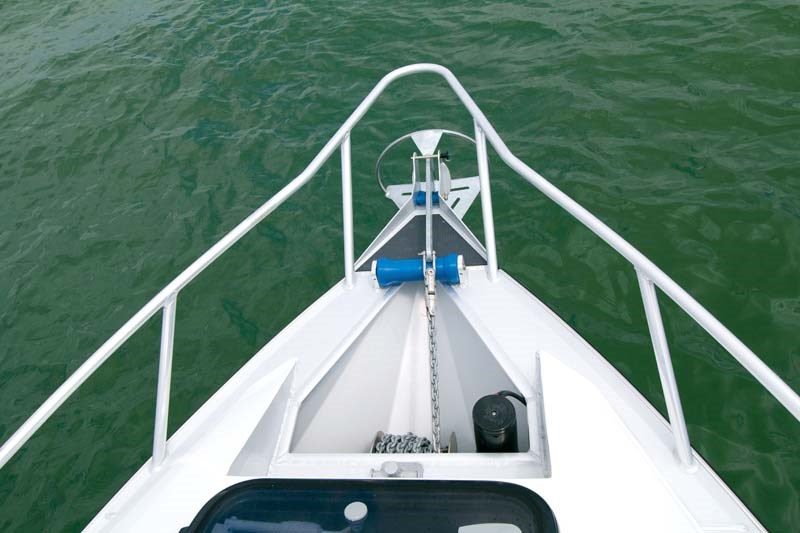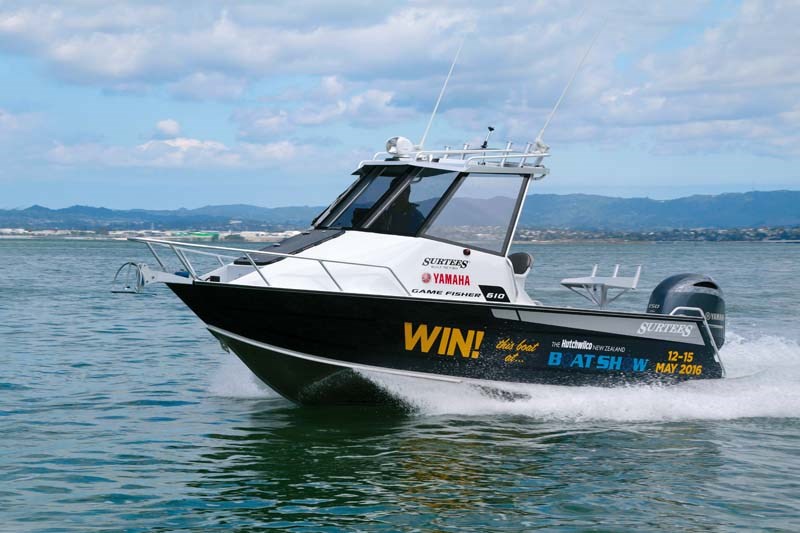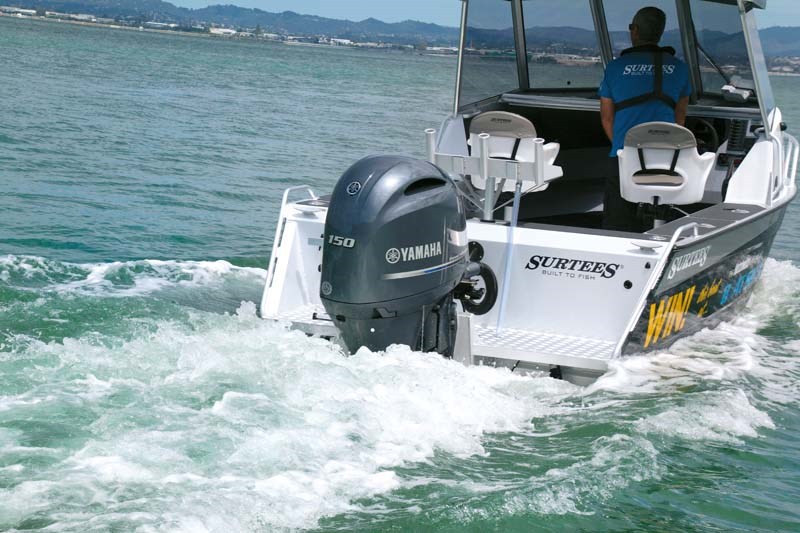 Keep up to date with news from Trade-A-boat or like us on Facebook!