Volvo Penta D4-260 marine diesel review
---
We rate a Volvo Penta D4-260 marine diesel engine on a new Jeanneau NC9 motoryacht.
I recently reviewed two new Jeanneau luxury powerboats: the Jeanneau NC9 and Jeanneau NC11. You can see how they rated in the review below — and in particular, why the Jeanneau NC11 remains relevant after winning the 2011 European Powerboat Of The Year Award. So how does the Jeanneau NC11's smaller sibling, the Jeanneau NC9, handle on the water when powered by a Volvo Penta D4-260 marine diesel engine?
Volvo Penta D4-260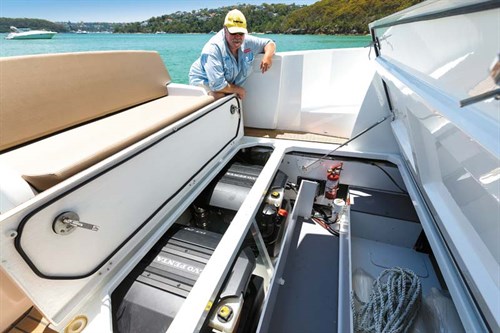 Our review Jeanneau NC9 was fitted with a Volvo Penta D4-260. This marine diesel engine is a four-cylinder, double overhead cam, turbocharged and aftercooled boat engine with common-rail fuel injection, four valves per cylinder and a belt-driven compressor. This compact yet gutsy unit provides excellent performance and fuel consumption levels, combined with clean IMO NOx, EU RCD, US EPA Tier 3 environmental ratings.
The block and cylinder head are cast iron, incorporating an efficient four-valve-per-cylinder design with hydraulic lash adjustment. It features integrated cylinder liners with replaceable valve seats and a five-bearing crankshaft, and the enclosed freshwater cooling system is easily serviced and also features an easily accessible seawater strainer and impellor, as well as a hot-water system outlet as standard. You'll also be able to keep your entire electrical system well powered thanks to the 115A alternator with protection diodes and regulator.
Volvo Penta's Electronic Vessel Control (EVC) allows 'plug and play' connection, providing precise communication and control between the instruments, binnacle controls and the engine. This not only dramatically increases efficiency but supplies far more appealing engine control to the helm, with features including cruise modes, tow modes, trim assist and single-lever levelling for dual installations all at the push of a button.
Variations of this compact 3.7-litre block are available in a range from 225 to 300hp and can be mated to the DPH Duoprop outdrive, as in our Jeanneau NC9, or alternatively to IPS350 and 400 pod drives or a straight-shaft or V-drive inboard drive system.
It's a popular selection for both new and repower applications, and unlike many competitors was entirely designed for marine applications – it's not a converted truck donk.
An inspection of the torque curve reveals the all-important grunt throughout the working powerband, making more than 600Nm from a low 1900rpm and peaking around 650Nm at approximately 2500rpm, smack-bang in the acceleration and cruising range, where you want it. Fuel consumption shows a steady increase through the range, with no severe leaps to surprise you at the bowser or, more importantly, on the water.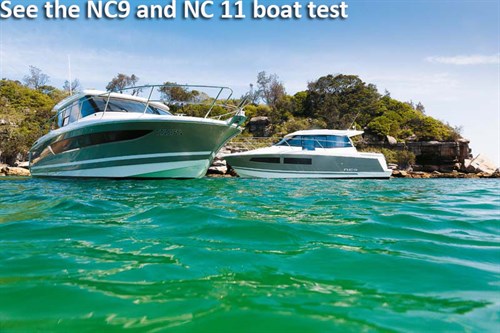 Volvo Penta D4-260 specs
TYPE Four-cylinder, common-rail injected, double overhead camshaft, four valves per cylinder, turbocharged, and aftercooled four-stroke marine diesel engine
RATED HP 260
DISPLACEMENT 3.7 litres
WEIGHT 660kg with Duoprop sterndrive
PROPELLER Volvo Duoprop
MORE INFORMATION
Orakei Marine
Orakai Marina, 12-14 Tamaki Drive, Orakei, Auckland, 1745
Phone (09) 524 8444
Email sales@orakeimarine.co.nz
See the full version of this review in Trade-A-Boat #264, on sale March 24, 2016. Why not subscribe today?
Keep up to date with news from Trade-A-boat or like us on Facebook!