Review: Whitecloud 9 Metre Trailer Launch
---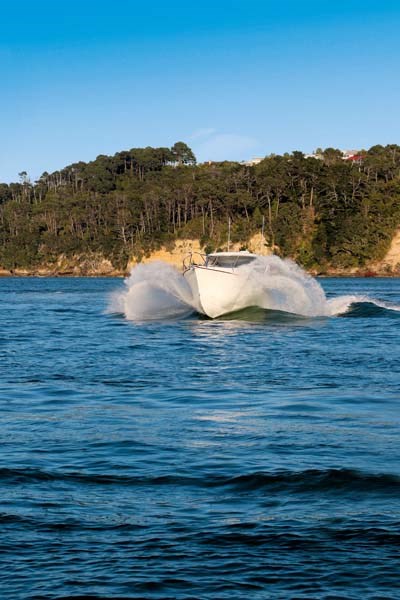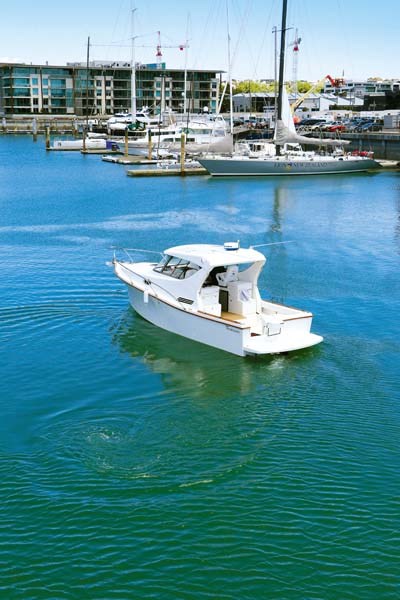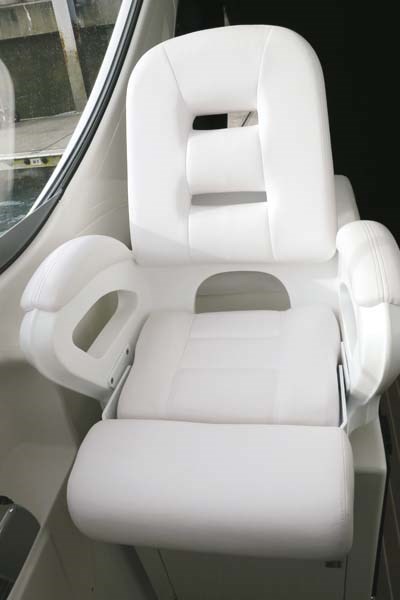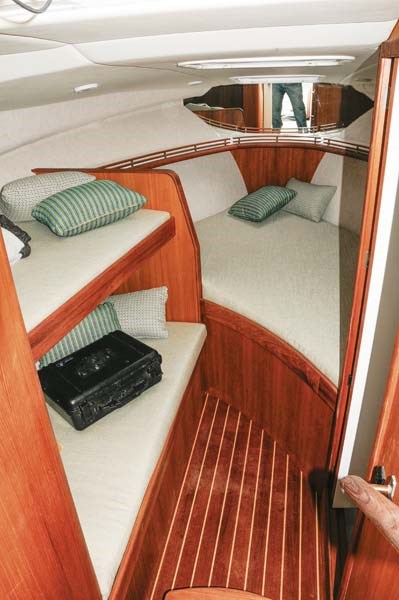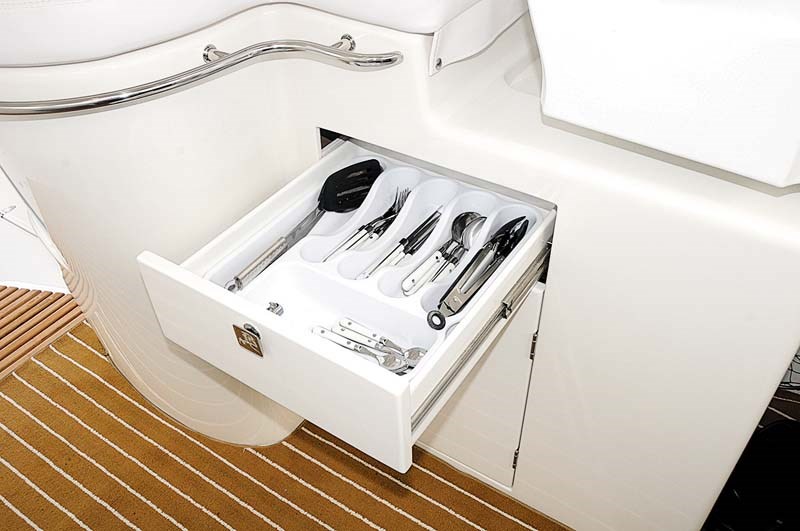 The Whitecloud 9 Metre Trailer Launch is, well, quite a trailerable boat, despite being overwidth.
Aotearoa means Land of the Long White Cloud and that is what this boat — a Whitecloud 9 Metre Trailer Launch — should probably be named.
It is a long Whitecloud boat. At 10m, including the duckboard and bowsprit, it is not your standard trailerboat and at a fraction short of 3m in the beam, neither is it some skinny banana boat built to fit road regulations and bugger-all else. This Whitecloud 9 Metre Trailer Launch is a serious launch. A trailerable launch though, and that belies everything we thought we knew about trailerboats. But I'm getting ahead of myself.
Whitecloud Boats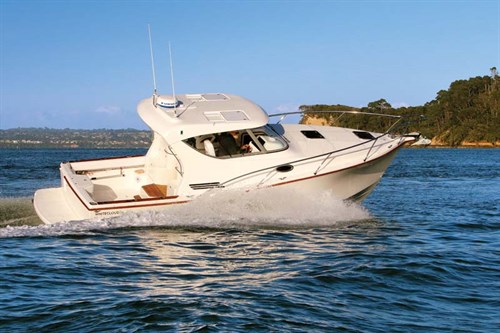 In the beginning was the word, and the word was movable. Attached to that word were a bunch of other commands that served as a blueprint. These words included high-quality, sea-capable, family-friendly, powerful, customisable, comfortable, attractive, boat-show finish, clever use of space, trailerable and the biggest word – Launch.
John and Christine Erkkila have been boating – and custom-building the boats they've spent decades on – throughout the Pacific, cruising and gamefishing. They know from hard-won experience exactly what works and what doesn't, and they know what they want and how exemplary it must be to sustain an excellent quality-of-life for weeks at sea. So they turned to Craig Wild to draw up their design for this remarkable vessel. For those with a longer tooth in the boating fraternity the name Wild is synonymous with sense, practicality, quality and beauty. The Wild boatbuilding name is legendary and generational, back to his father Bob and great uncle Col.
Craig began by building a development Whitecloud boat in wood and refining it until John and Christine were happy with it and only after four years did they begin building the moulds for the final version.
What the team finally delivered is, quite simply, beautiful to the eye and hand. There is a palpable sense of strength, heft and opulence.
Layout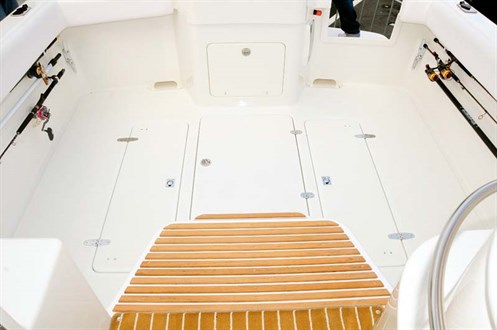 Let's start with the layout of the boat. Stepping aboard the wide duckboards, with recessed boarding ladder neatly tucked away at the stern, my fairly considerable weight and gear barely moved the boat. The transom is squarish and solid, and the door held up with sturdy stainless steel clips, hinges and catches. Popup stainless steel cleats are let into either side of the duckboards so not a tripping hazard. The stainless steel fairleads set into each transom corner, with oversized stainless steel cleats internally, would grace a superyacht.
The cockpit sides are padded and the fairleads ensure mooring lines will never chafe those luxe internal surfaces. There is nothing on this boat that doesn't reflect this level of thought and attention to ongoing serviceability. The cockpit floor is flat with three large hatches giving access to ample storage for dive tanks, lines, buoys and catch of the day. The central hatch opens to reveal a tub that lifts out giving unfettered access to the jackshaft and macerating bilge pumps.
Fishing space is plentiful with 5m2 of self-draining rear deck area. There are three rod hooks and gaff holders either side, with recesses for rod tips and gaff hooks out of the way of passengers. The sturdy stainless steel rodholders, surgically implanted in the teak-topped rails, are a testament to the quality and workload they will endure for years; even the mounting screws line up square, uniform and smart.
The transom also houses a freshwater shower, deck washdown and an aerating livebait tank with lid. Below the tank is a panel giving easy access to fuel filters and sight glass.
Interior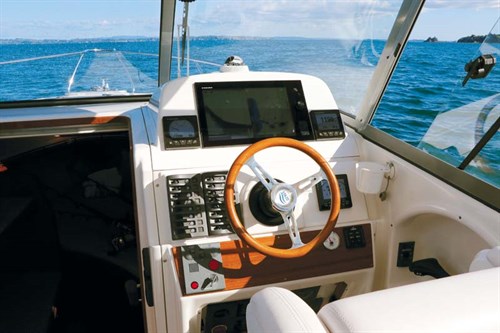 Every space aboard this boat has been meticulously planned. In the cockpit portside is access to a lower hatch and storage area that could hold the entire fishing tackle collection of Sam Mossman. Above is another hatch, out of which slides a stainless steel gas barbecue on rails that locks into place with a simple pinlock, and above that a removable upholstered pad beneath which is a hinged top that lifts exposing a two-burner cooktop surrounded by a towel rail. A drawer unit holds cutlery and utensils, with the pots, pans and plates in a cupboard beneath.
To starboard the lower hatch gives way to a foldout cockpit seat complete with rolling bolster. Above that the unit steps up and the hinged top folds back to reveal a large sink unit complete with folding stainless steel tapware, storage and a slide-out refuse bin below. Forward of that is the helm station, under which sits a generous fridge unit.
The whole galley experience can be had in the main areas away from bunks and beds, and the head and shower forward. The chef du jour will appreciate the generous ventilation, views and light. One of the most extraordinary features of the Whitecloud is that the entire galley and helm are hinged on large gas-assisted struts. The complete unit easily lifts and tilts up and forward to give unfettered access to the engine, electronics, batteries and ship management areas.
Engine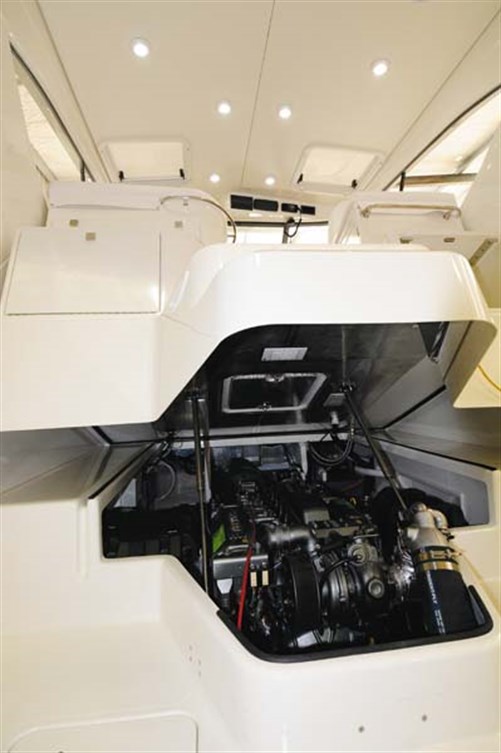 Bringing the engine weight from the rear of the boat to a more central position means the boat is more stable and easier to the plane with reduced lag getting out of the hole. Usually with a mid-engine one of the problems is less passenger room, but not so here. The engine sits as low in the boat as possible, giving terrific stability at rest and allowing that huge cockpit storage space.
The picture from the helm through the SeaThru windscreen is phenomenal, comprising a huge central square pane and two curving windows either side. Visibility is exceptional and the pantograph wiper ensures pressure and clarity no matter the weather. One wiper alone is an oversight though, as the central screen will be used extensively in weather, and given the seating I'd prefer to stay seated on watch.
The helm and passenger seats are a symphony of American expense and capability. Todd makes the most comfortable, stable and solid-feeling seat I've ever used, and they are positioned perfectly with everything to hand – the helm station designed for long days without fatigue. The $5000 price for these seats, while numbingly expensive, will reward you with back health for years to come and ensure you are still happy at the end of a tough day of weather. Sliding windows open easily, and overhead simple, solid and well-crafted hatches open and give air and light access from three fixed positions.
Electronics
The business end is taken care of by Furuno FI-70 digital gauges and a 14in Furuno touchscreen with ship management, sounder, GPS, radar and fishfinding capacity. Networked together the gauges offer clear engine information, speed and navigation details.
All switching is easily to hand too, with Icom radio, FUSION stereo system and lighting management above. There is a redundancy panel under the main wheel with Yanmar management gauges, switches and circuit breaker.
Alongside the Stazo wooden wheel is a Furuno autohelm with remote drive and steering knob, and beside that are Lenco trim tabs control, trim gauge and the key start.
Portside of the passenger seat, safety equipment is immediately accessible in a recessed panel and includes EPIRB, flares, waterproof torch and fire extinguisher, while beneath is the gas bottle locker.
In the forward cabin, a separate head and shower is immediately to starboard and a large raised double bed points forward with a padded ceiling and two large overhead hatches. The fittings are of resort quality, lighting subtle and there's massive storage beneath the forward bed. To port are two full-length bunks with lamps for reading and recessed storage.
Handling and ride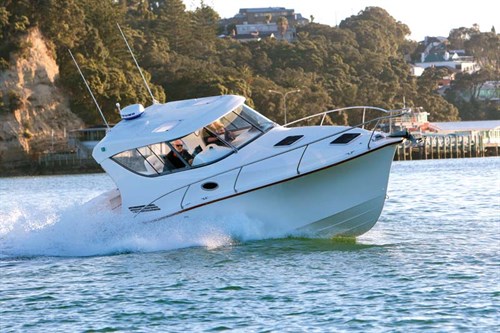 Glowing in her clean, white, unfussy livery the Whitecloud 9 Metre Trailer Launch graces the Viaduct big-boat basin with subtlety and ease. Externally this ship is super sharp, with solid stainless steel bowrails, handholds and fittings all custom made. Access to the foredeck is easy and anchoring a breeze with automatic winch duty being pulled by the ever-reliable Maxwell system. Even the Whitecloud name appended to the stern quarters is made from bulky, solid, top-grade stainless steel. Up top, two radio aerials and a large Furuno radar system complete the picture.
What is truly remarkable about this vessel though are the hull and its seakeeping qualities. Using a Carolina bow with very fine entry and a steep angle means the first action in lumpy water is a cleaving motion, without the usual "bump and stumble" feel of lesser craft. The hull has a graduated and comfortable lift powering through chop and slop and will ease tension in the inexperienced.
Given a fair heap of stick the big Yanmar diesel gets up and boogies down the harbour and responds firmly to the helm. Pushed through full lock in Waitemata chop, the Whitecloud held snug and tight without cavitation. Fiddling about with trim and tilt produced very quick responses to small adjustments, and it was gratifying to achieve and understand maximum response settings moments after taking the helm.
Mike Rendle, Whitecloud marketing manager, reckons it's not a boat test without a snapper aboard so we cruised out to the Haystack at 25kts and caught dinner in double quick time. The usual Auckland late afternoon wind sprang up and shoved the water about in spouting wee lumps, but we barely noticed it as we cruised home up the Motuihe Channel.
The Whitecloud is so well-drawn, conceived and delivered it would be easy to think that not much is going on because so few things spring to mind except: Where are we going? What shall we have for lunch? And, is the wine cold yet?
The Trade-a-Boat verdict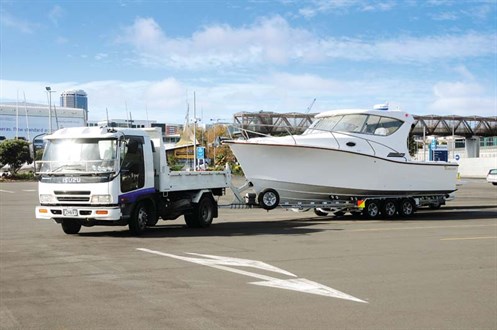 Only two tiny things that weren't exemplary stood out to me. One, the lack of a second wiper is a mistake and easily remedied. And two, at full noise the big Yanmar diesel being directly below echoes off the turned-down rear of the hardtop behind the head. I'll be interested to see how ongoing development in this area reduces the noise issue further.
That said, the most remarkable innovation that is an issue hasn't been mentioned yet. Yes, it truly is trailerable and DMW makes a trailer especially for this boat. With a simple-to-obtain Class 2 licence the boat can be towed by a large US 4WD or small truck, and that means access to our marvelous coastline pretty much anywhere in NZ.
Or, you may like to moor it somewhere, or even better there's a bespoke service that Whitecloud offers that is also second to none. Tell them where you want it and they pick it up and take it there. They will retrieve it for you too, take it to their factory for service or maintenance and return it wherever you like. It's a one of a kind service and all part of the spectrum of excellence delivered by the company that names itself after our nation: Aotearoa – Land of the Long Whitecloud. 
HIGHS
• Innovative engine placement
• Highest quality finish
• Tilting deck engine access
• Liveaboard ease
• Trailerable
• Bespoke retrieval service
LOWS
• A little noisy at high revs
• Second wiper needed
Whitecloud 9 Metre Trailer Launch sea trials
Single 315hp Yanmar turbo-diesel marine engine.
| | | | |
| --- | --- | --- | --- |
| RPM | SPEED (KTS) | FUEL BURN (LT/H) | RANGE (NM) |
| 1500 | 7.6 | 8 | 342 |
| 2000 | 13.1 | 12 | 393 |
| 2500 | 20.5 | 20 | 369 |
| 3000 | 27.5 | 30 | 330 |
| WOT | 36 | 58 | 223.44 |
* Sea-trial data supplied by Whitecloud. Range based on 10 per cent fuel reserve
Whitecloud 9m Trailer Launch specs
Whitecloud 9m Trailer Launch price: $295,000
Priced from
PRICE AS TESTED
$475,000
GENERAL
MATERIAL Fibreglass
TYPE Monohull
LENGTH 8.8m
BEAM 2.95m
DRAFT 450mm
WEIGHT 4950kg BMT (w/ full fuel, water)
DEADRISE 20°
CAPACITIES
PEOPLE (DAY) 8
FUEL 400lt
WATER 150lt
HOLDING TANK 100lt
ENGINE
MAKE/MODEL Yanmar 6LPA sterndrive marine diesel engine
TYPE Inline six-cylinder turbo-diesel
RATED HP 315
DISPLACEMENT 4.2lt
PROPELLER Duoprop
SUPPLIED BY
Whitecloud Boats
409 Raynes Road,
Tamahere, 3282, Hamilton
Phone 0274 941 627
Email mike@whitecloudboats.co.nz
See the full version of this review in Trade-A-Boat #261, January 2016. Why not subscribe today?
Keep up to date with news from Trade-A-boat or like us on Facebook!