Aquila 44 power catamaran review
---
Power catamarans like the Aquila 44 offer unrivalled space and efficiency in easy to use packages.
The Aquila 44 is a value for money power catamanran.
The bow-to-bridge walkway is a good design.
This power cat has frugal running costs and requires low maintenance.
It has excellent optional hard clears.
However, overall attention to finishing could be better.
Post-GFC, it's a big call to import a brand as new as Aquila catamarans, but with the market shifting towards more efficient and spacious cruising, NSW-based Multihull Central has taken the plunge.
Aquila Yachts – formerly a monohull sail boat brand – has re-emerged in the market with three keel-up power catamaran models: the Aquila 38, Aquila 44 and Aquila 48. Hull designs are computer-aided and each hull is comprehensively pre-delivery tested in the local waterways of their manufacturing partner Sino Eagle Group's Shanghai HQ.
The Sino Eagle Group is not new to composite manufacture having a presence among world-class skiffs, skis and even aeronautical parts. Nor is it new to yacht manufacture, having built monohulls under the Aquila name in the past and undertaken joint venture and contract manufacture for Leopard as well as custom builds.
Aquila 44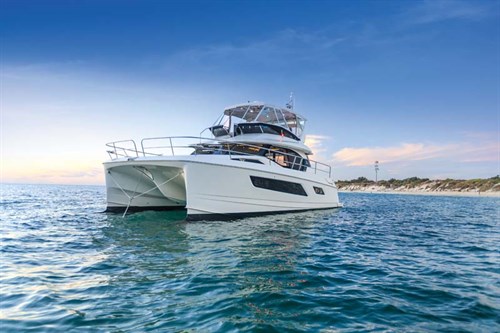 The first thing you notice about the Aquila 44 is the volume of the foredeck over the front third of the sponsons. Oceangoing power catamarans typically leave this area open or netted, allowing the front sections of the bows to move deeper into and out of the swell while avoiding slamming, or worse, digging in of the foredeck.
Enclosing the area between works only if the displacement of the sponsons is great enough to stop the bows from dropping too deep or if the foredeck is high enough to steer clear of trouble but Aquila has taken its solution straight from merchant shipping and it's another example of the company's desire for efficiency and space maximisation – bow bulbs.
The designers added displacement forward of the bow and waterline length by way of substantial bulbs. They're noticeable underway as they lift the bow and pierce the water, shearing it around the hulls more cleanly, improving efficiency.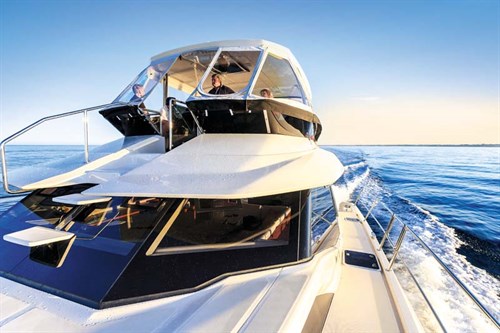 During our day aboard we weren't lucky enough to find swells bigger than a metre but with typical quartering sets across our starboard bow en route to Rottnest Island, I kept watch for any unwanted pitching. I didn't notice any, the bulbs lifting clean of the water allowing the hulls' length and balance to take care of the wave separation. During any moment where one bulb was deep, its angled-up design worked well with the moulded lifting strakes to bring it back level. It's an excellent bit of engineering that adds efficiency but importantly allowed the designers more freedom to maximise floor space.
Adding bulbs to the boat, even if they add some buoyancy at rest, still changes the centreline balance so the team added stern in-fills under the boarding platforms to equal out their effect. This again adds to a waterline length that must be somewhere north of 46 feet all told.
Layout and design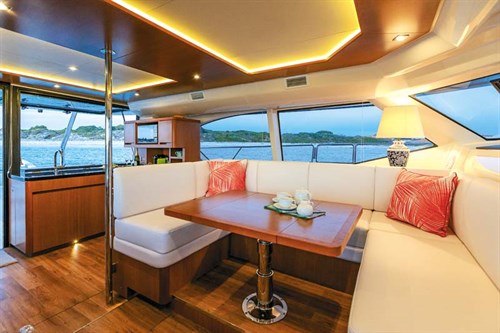 Catamaran owners rule the roost when it comes to useable space, especially when sponsons become large enough to accommodate berths. The Aquila 44 has this but the design, courtesy of the bulbous bows, takes a step further with a full-beam bow master, something I've not seen on a catamaran under 50 feet. By sinking the master en suite into the port sponson and a neat study-cum-robe area into the starboard side, the master feels exceptionally airy.
Twin guest rooms feature double beds and as standard come with en suites. Our test boat swaps one en suite for a laundry with additional refrigeration, a smart idea for those looking to spend long periods at sea.
The main saloon focuses on entertainment, with a large lounge framing an extendable dining table. Opposite is a raising LED monitor with room below and beside for storage. The galley is well equipped and with supplementary refrigeration below decks, you have everything needed to live aboard. A stand-out feature has to be the full-sized opening window with fold-down bar. It makes the best use of bench space and doubles up as a servery to the rear lounge.
The rear lounge features touches designed by an experienced user, with lit cup holders everywhere, their light complementing LED deck lighting.
Wide and featuring plenty of grab rails, side access to the bow is safe and secure. Here you'll find one of my favourite design features – the bow-to-bridge stairway. Non-slip tread is moulded into the master cabin roof and leads up to the bridge by way of one moulded and two floating steps. It opens up the use of the bow and makes access to fenders and ropes quicker and safer under the captain's gaze.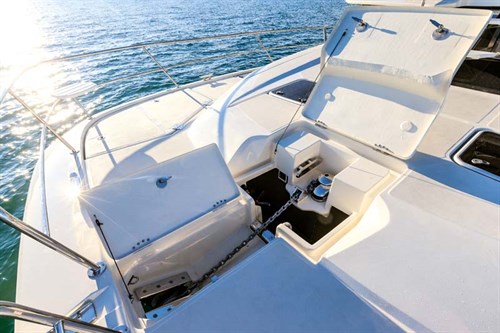 The bridge again puts entertaining first. Our test boat's owners declined the optional gas cooker in favour of bench space but a portable stove would fix that. An optional fridge and icemaker compliment the standard sink to handle refreshments, while an excellent set of optional hard clears fold up and away to allow the summer breeze to roll through.
The helm is central, thanks in part to the need for access to the bow steps, and shares seating with yet another large lounge. That brings the total seat space easily over 10 including the dining area aft of the helm.
A standard Fusion stereo takes care of the party sounds and by linking with speakers around the hull, can control sound levels throughout. Electronics are by Raymarine, including the excellent autopilot, and linked to the Volvo ECV system displays all key engine data. The helm positioning is spot on with the wheel adjustable and the excellent digital throttles set at a comfortable height.
Perhaps my only gripe was some attention to detail. The cabinetry is cut to perfection, with near faultless fitment, but excess sealant was a small let down. A few hours' tidying would settle those as picky as me, but for many it won't be an issue.
The Trade-a-Boat verdict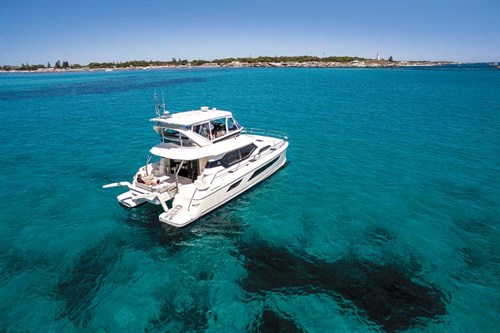 The Aquila 44 will find favour with long-distance cruisers and those looking for a viable charter option. It is an ideal option for Multihull Central's intriguing new concept, the SEAbbatical, a program that helps those short of time or low on skills plan long-distance sojourns, with financial advice, preparation and planning.
The concept will appeal to the cost-conscious as it targets the use of chartering to offset costs while planning and training is undertaken. Multihull Central hosts online and live summits for SEAbbatical, something worth entertaining if you are considering a long distance live-aboard journey.
Aquila shows strong signs of being a long-term brand. Having recruited key positions from European companies and already having sold more than 25 44-foot models alone, the company looks to be setting itself up as a serious contender.
The designers nailed their goal to create an efficient cruising catamaran that maximises space. The Aquila 44 makes the best of clever design at an astounding price. 
Aquila 44 power catamaran sea trials
Twin Volvo D4 300hp marine diesel inboard. Twin, independent 550L fuel tanks (range calculated leaving 10 per cent reserve)
| | | | |
| --- | --- | --- | --- |
| RPM | SPEED (KTS) | FUEL BURN (Lt/H) | RANGE (NM) |
| 1500 | 7.4 | 12.5 | 592 |
| 3000 | 17.3 | 78.3 | 220.9 |
| 3400 | 20.6 | 107.9 | 190.9 |
| 3600 (WOT) | 21.2 | 115.5 | 183.5 |
* Sea-trial data supplied by the manufacturer
Aquila 44 power catamaran specs
Aquila 44 price: $1,038,220 (AU)
Priced from
OPTIONS FITTED
Volvo D4 300hp marine diesel engine upgrade, bridge ice-maker and fridge, hard clears plus more
PRICE AS TESTED
$1,240,000
GENERAL
MATERIAL FRP with resin-infused hulls and decks
TYPE Power catamaran cruiser
LENGTH 13.44m
BEAM 6.56m
DISPLACEMENT 18,240kg (light)
CAPACITIES
PEOPLE (NIGHT) 6+1 (DAY) up to 21
FUEL 2X550L
WATER 680L
ENGINE
MAKE/MODEL Volvo D4-300 marine diesel engine
TYPE Inline four-cylinder turbo diesel
RATED HP 300
DISPLACEMENT 3703cc
WEIGHT 559kg (dry)
GEAR RATIO 2.4:1
PROPELLER 20in four-blade
Keep up to date with news from Trade-A-boat or like us on Facebook!