Caribbean 49 review
---
Is there a better way of getting a full appreciation for a dedicated offshore fishing boat like the Caribbean 49 than actually fishing on one for two days?
That was our mission in Port Stephens for the annual Billfish Shootout, and our weapon of choice was the Caribbean 49 Haulin, fitted out by tournament sponsor Sylvania Marina for Dean Hoye.
The Caribbean 49 is the largest model in an extensive range of Caribbean boats manufactured by family-run boat-building business International Marine in Melbourne.
They says they'd build larger boats if they could get them to the water from their landlocked factory in suburban Melbourne but even so, more than 55,500 craft have had this iconic brand name stamped on the transom, making it one of the country's major boatbuilding enterprises.
Caribbean 49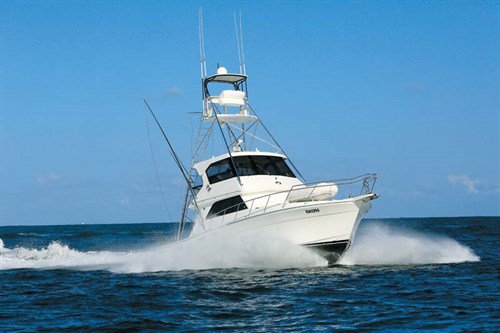 This particular Caribbean 49 is a true high-seas battlewagon, with every conceivable electronic feature and a beautiful aluminium eyrie towering above.
Like all Caribbean boats for the past 50 years, the 49 is as tough as they come, with lashings of hand-laid fibreglass in a design echoing original Bertram lines. Beefy bows allow for maximum accommodation forward where a master is joined by two smaller cabins and twin bathrooms.
Room for a full crew to sleep on board is important as the boat ventures to distant tournaments. Including saloon and flybridge lounges there are beds for eight without anyone having to share the doubles in the master and the port-side cabin.
Live-aboard features on this Caribbean 49 include a galley with refrigeration to support long voyages as well as to chill plenty of take-home catch. In addition to a combination fridge-freezer in the galley there's an icemaker in the saloon as well as a large eutectic freezer against the cockpit bulkhead.
Layout and design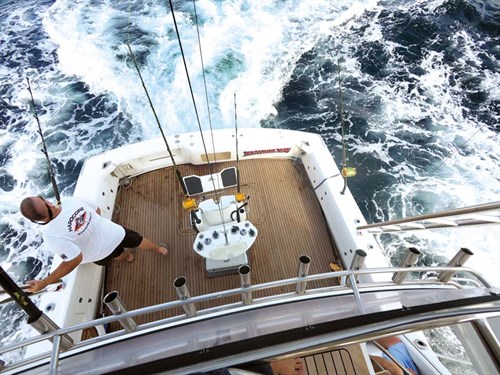 During our two days the cook/deckhand was kept busy serving snacks and lunch from the galley set low to port at the front of the saloon. A rear galley may be a better entertaining choice but for fishing-oriented sailors the forward galley makes sense. On game boats the crew generally spend the waiting hours spread out on the cockpit lounges and floor, and barging past the cook might be tricky when the fishing action starts.
A sliding door gives access to the 15.4sq-m cockpit with a 130lb Reelax game chair. Sylvania Marina added a teak floor and set up the livebait tanks but a two-section marlin door, bait preparation table, deck wash, cockpit shower and side lockers are standard. In keeping with the boat's main task there's no swim platform to get in the way of landing the gaff or hinder aggressive backing down on fish.
Moulded steps lead to side decks with well-placed grab handles and side rails for access to the bow. To keep weight off the bow, Dean opted for a 26kg inflatable tender, reasoning that a 400kg davit would be weight in the wrong place. The crew can launch the little brig by hand and the 5hp Mercury is enough to get them ashore.
Flybridge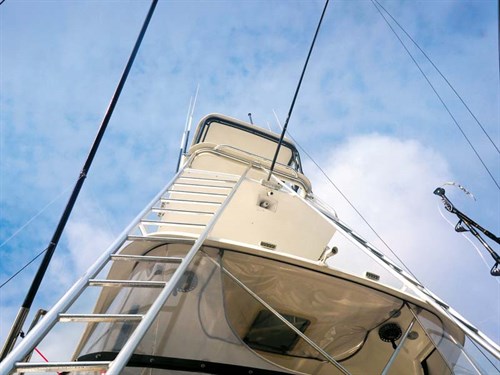 Teak insets in the flybridge ladder make access safer and more comfortable in bare feet, and a lounge area ahead of the helm is a popular socialising space that's roomier without the usual teak table.
The space is fully enclosed with a fixed glass windscreen and sliding side windows, while the back has roll-up clears for an unobstructed view of the deck and the spread of lures.
A small console to port has a fridge and sink while a fold-down lockable access hatch keeps electronics secure.
The helm seats have been upgraded to a matching pair of Scopinich chairs that look the part and proved very supportive in the navigator's position across miles of ocean.
A quick look at the dashboard leaves the impression Dean enjoys his electronics – if Raymarine offers a 'Full Monty' package, this is it. He has three 16.5in G Series Glass Bridge touch screens networked through a CP470 processor showing sounder, navigation, 6ft array 72nm radar, and FLIR camera. A Fusion stereo sends music throughout the boat and there's also television from a Foxtel satellite receiver – gotta keep up with the footy.
Finding fish is serious work and 3kW and 1kW transducers running through four different frequencies help. It was cool to see Dean call the only fish we saw on the sounder in two days and then have it grab the short corner.
Additional screens carry comprehensive Caterpillar diagnostics as well as a CruzPro sea temperature gauge and chain counter.
A Side Power bow thruster helps dock the big boat painlessly while Twin Disc Quick Shift controls get you into gear and underway like a pro.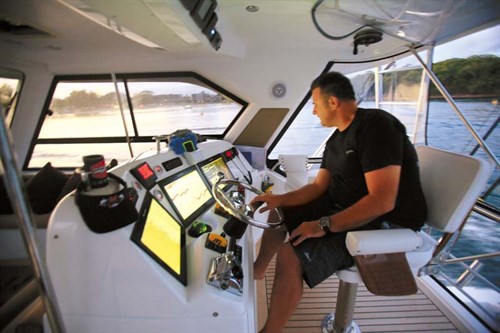 Sylvania Marina also added high-water alarms and additional bilges at each bulkhead. Extra safety features include an eight-man self-releasing life raft on the bow, with a valise-style raft and a satellite phone in the bridge.
Visually and practically the custom Black Marlin tower on Haulin is a standout. It was added to aid traversing the reefy playgrounds around Cairns for the heavy-tackle marlin season. Weighing 320kg – 250kg is the fibreglass buggy – it follows the contours of the saloon and flybridge and conforms perfectly with the sleek Caribbean lines.
Due to the forward mounting points being on the hardtop rather than down on the deck, the extra weight is transferred aft and gives the bow a 10-degree lift underway. That was deliberate as Dean likes the added load at the back for a better ride in most conditions with the option to trim down if needed into a heavy sea.
Surprisingly, he reckons the tower actually slows sideways motion and there was certainly no evidence that the tower adversely affected the feel of the boat when underway or in the sloppy conditions we experienced when trolling.
It seems much higher when you're up there but it's actually about 4.2m from the floor of the hardtop to the higher deck but the view doesn't come cheap – it was a $70,000 add-on, not including the extensive electronics package.
Handling and ride on the water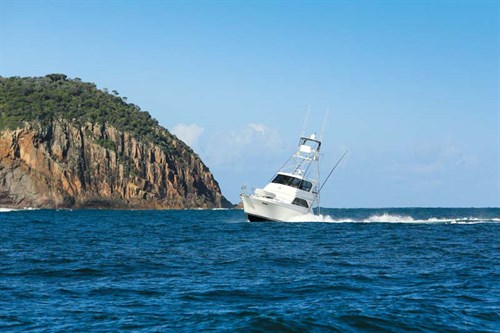 A pair of 715hp Caterpillars is in keeping with Caribbean's conservative approach to power. This might seem unadventurous for a 49ft game boat but they push her 26-ton laden weight beyond 30 knots and she'll cruise all day at 26kt in the right conditions. That's enough not just to keep the fleet in sight on a run to the shelf but to be there ahead of most of them.
More importantly, they're relatively economical compared to mega-powered beasts so they win at the refuelling station, sparing funds for vitals like lures, tackle and beer.
At an 8kt trolling speed the engines were ticking over at 850rpm and consuming a meagre 24L/h, giving a range of 810nm or an average over an eight-hour trolling day of about 180L. Slow cruising at 20kt arrived at 1750rpm – this was about the speed we achieved on day two into very nasty wind-on-tide conditions with a two-way swell. We had spray over the top a lot of the time but the ride was soft and I noticed very few bangs or rattles from the superstructure. Range at these revs would be 337nm.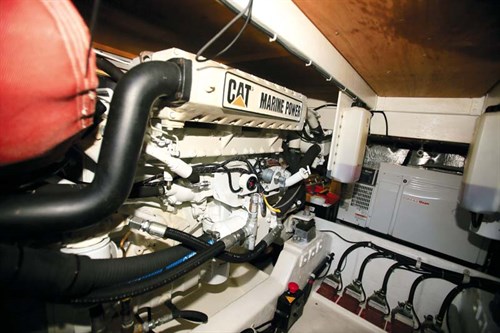 Dean's ideal speed and normal travelling pace is around 26kt, raising the burn to 160L/h but improving range over slow cruise to 394nm. Even at a flat-stick 32kt, drinking 228L/h, she has a useful range of 341nm. The later model's 3200L tank would take you even further.
For the Shootout the crew kept to a tested formula of keeping things simple and ensuring all the gear was properly maintained and presented. The boat runs New Zealand-made Bonze lures. Usually three are deployed at a time, plus teasers, and though we ran five for a while, Dean says that makes things too complicated and risks cut-offs. The Reelax Maxi poles have been extended six feet and the motorised Maxell teaser reels are run from upstairs.
The Trade-a-Boat verdict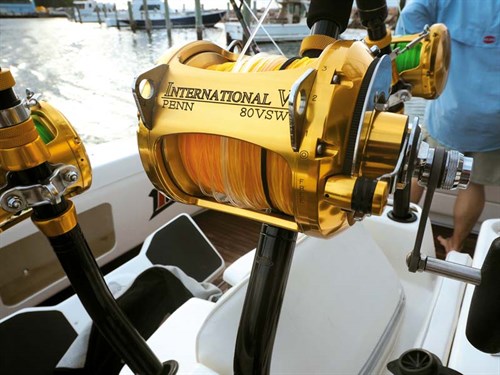 Fitting the boat out for tournament fishing doesn't mean the Hoyes don't also enjoy family time on board. Caribbean boats are competent cruisers and great weekend getaways, and the 49 has loads of room for entertaining.
The price of entry to big-boat fishing isn't for everyone and for those with the wherewithal, the choices are diverse but if you want the security and proven ride of a well-built Australian boat, the Caribbean 49 is a wise decision. Set up like Haulin it's a sensational ride and immensely enjoyable even if the fish don't play.
Caribbean 49 sea trials
2600lt fuel, six people, Propellers: Austral five-blade (range calculations using 10 per cent reserve)
| | | | |
| --- | --- | --- | --- |
| RPM | SPEED (KT) | (L/H – both) | RANGE (NM) |
| 700 (idle) | 7.2 | 16 | 1093nm |
| 850 (troll) | 8 | 24 | 810 |
| 1750 | 20 | 144 | 337 |
| 2050 (cruise) | 26 | 160 | 394 |
| 2390 (WOT) | 32 | 228 | 341 |
* Sea-trial data supplied by the author
Caribbean 49 specs
Caribbean 49 price: $1,064,000
Priced from, with Cummins QSM11 715hp marine diesel
OPTIONS FITTED
Custom tower, electronics, teak cockpit, tender, life rafts, more.
PRICE AS TESTED
Approx $1,380,000
GENERAL
MATERIAL GRP
TYPE Flybridge Cruiser
LENGTH 14.77m
BEAM 4.88m
WEIGHT 20,500kg
DEADRISE 22°
CAPACITIES
PEOPLE 9 (NIGHT) 25(DAY)
FUEL 2700L (3200L on later versions)
WATER 900L
ENGINE
MAKE/MODEL  2 x Cat C12 marine diesel engines
RATED HP 700 x2
DISPLACEMENT 12L
WEIGHT 1124kg
PROPELLER Austral five-blade
MANUFACTURED BY
International Marine (Caribbean Boats)
Keep up to date with news from Trade-A-boat or like us on Facebook!