Extreme 570 Centre Console Review
---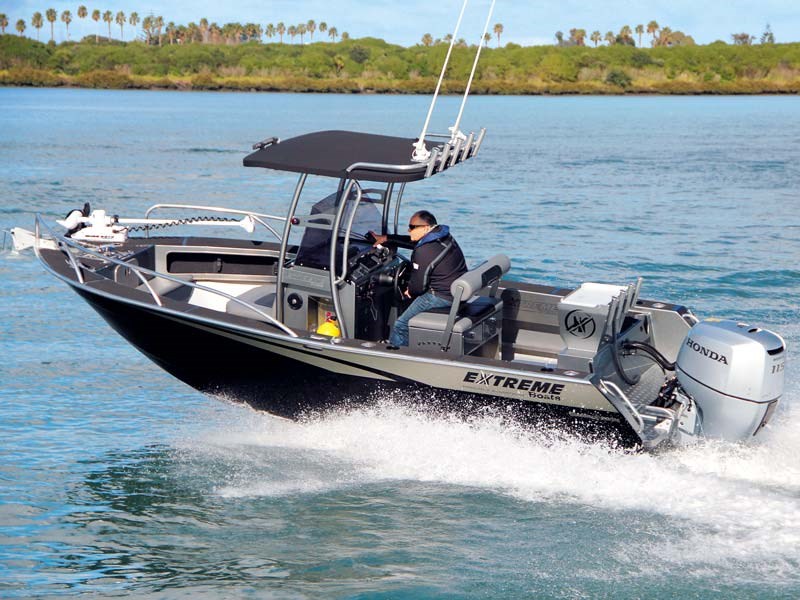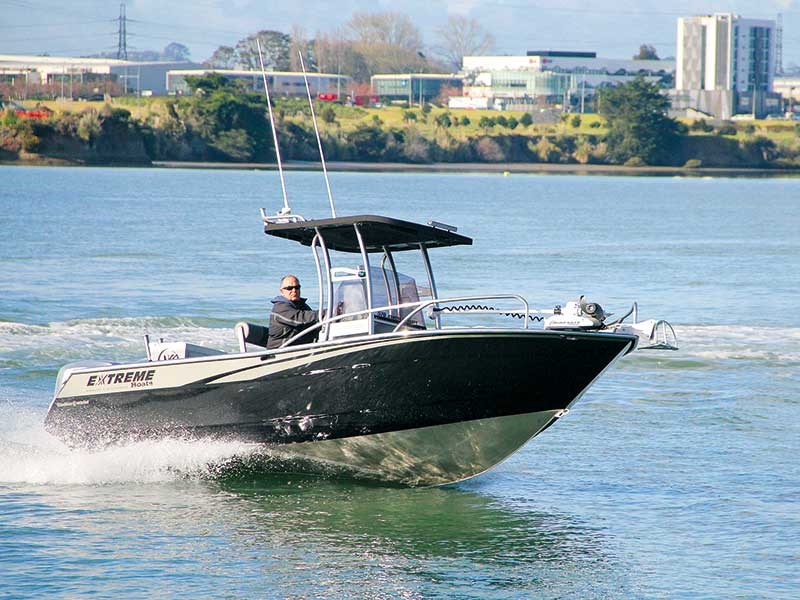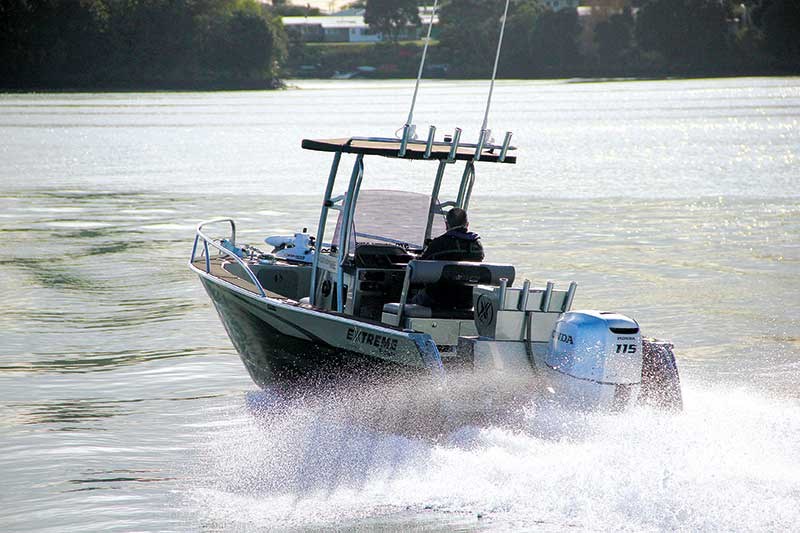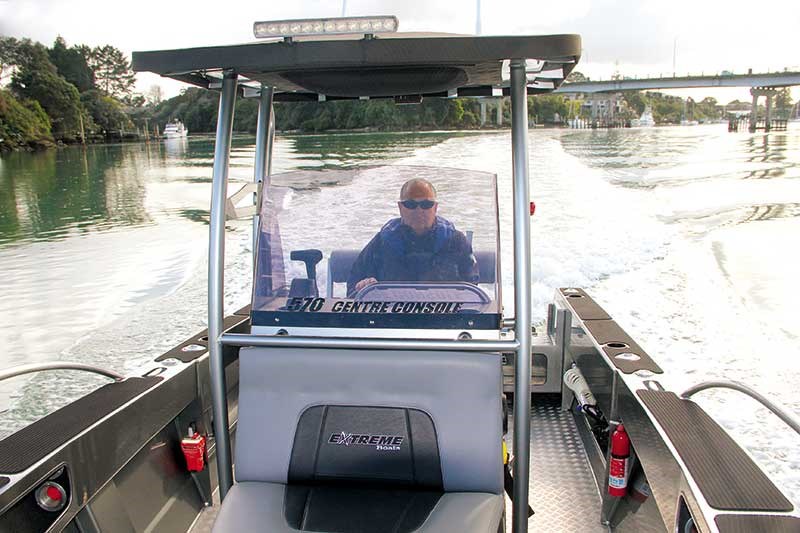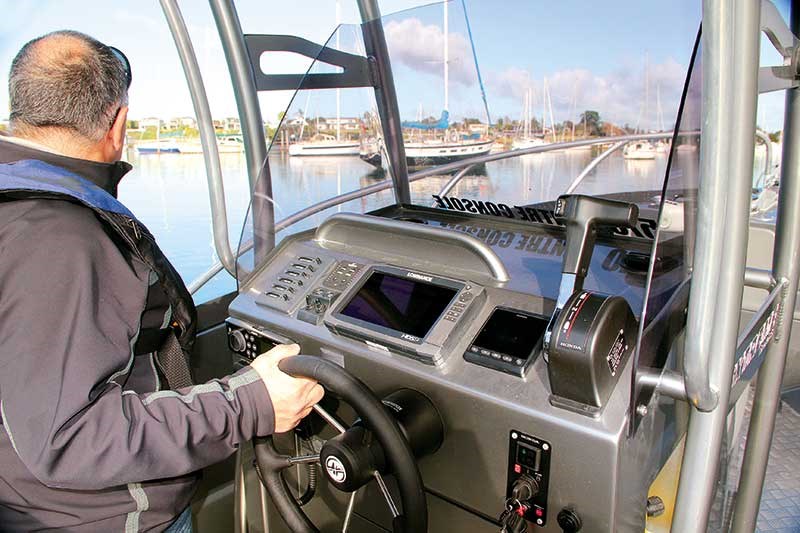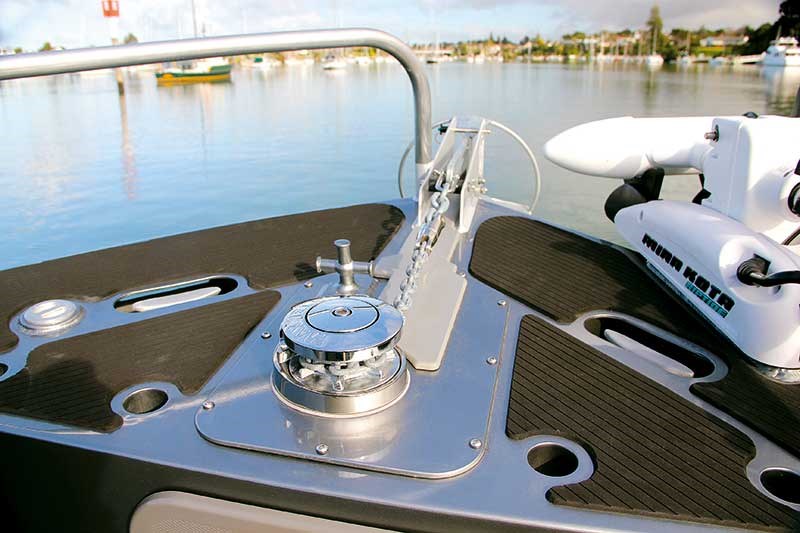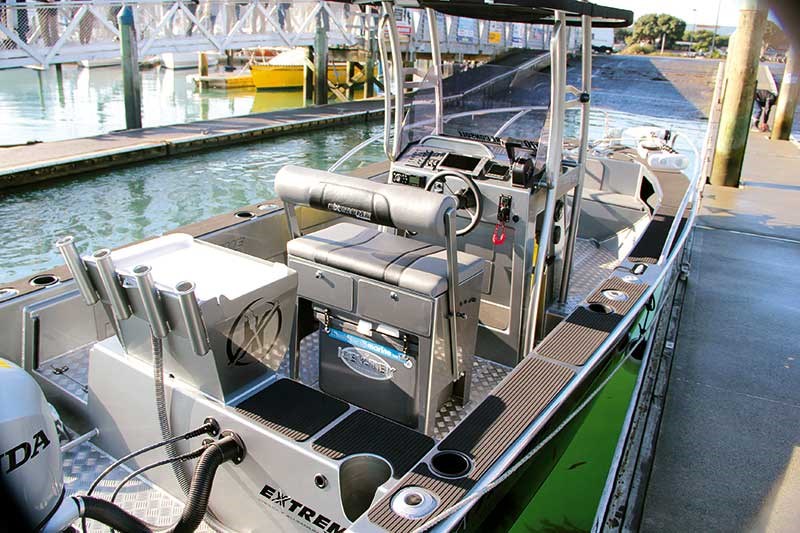 We dissect the winning ways of the extreme 570 centre console, finding a heady fusion of innovation and practicality with superb build and finish. The superlatives keep coming in this review…
Extreme Boats has become very proficient at winning awards and it is not coincidental. It reflects outstanding presentation and exacting attention to detail, the qualities judges look for in separating winners from losers.
Extreme's latest success comes in the form of its 570 Centre Console which was recently judged New Zealand's best aluminium fishing boat under 6m. It is an award category that is arguably the most prestigious because it is the hardest to win and attracts the biggest number of entries.
The competition is tough but in this instance the judges got it right. The Extreme 570 CC presented at the 2015 Hutchwilco New Zealand Boat Show is a standout. It is a magnificent example of aluminium boatbuilding and a demonstration of just what is achievable in the alloy medium.
Finished in high-gloss black and metallic gunmetal paint with embossed colour-matched squabs and non-skid surfaces, the 570 CC is as stylish as it is practical. It is a boat that has a stealth-like quality and an air of naval officialdom. Of course it is neither official, nor is it a navy patrol boat, but it has a menacing presence that would no doubt garner a lot of respect in Deliverance country.
The 570 CC shares the same hull as the Extreme 570 Game King which is one of the brand's most enduring models and an acknowledged performer that meets the brief for mid-size performance at an entry-level price.
DEVILISH DETAIL
The overriding impression of the Extreme 570 CC is the builder's very obvious attention to detail and intelligent use of all available space. There is no part of the 570 platform that has not been utilised in some way to add practical value. The boat has been highly optimised for its primary application as an inshore fishing boat and it carries every conceivable option in keeping with it demonstrator and boat show entry status.
That said, the engineering and build of this boat differs in no way from its most basic factory spec sister ship. In other words, the base 570 CC hull will mirror the same build quality and attention to detail evident in many aspects of the boat's construction. This includes, but is not limited to, sharp and crisp alloy folds, ripple-free topsides, near-perfect welds and mirror-finish coatings.
The challenge in assessing the 570 CC is in knowing where to begin because, unlike a hardtop or cuddy, every part of the centre console design is interconnected. There is no demarcation between front and rear. Both ends are designed for the same application but meet the brief in very different ways.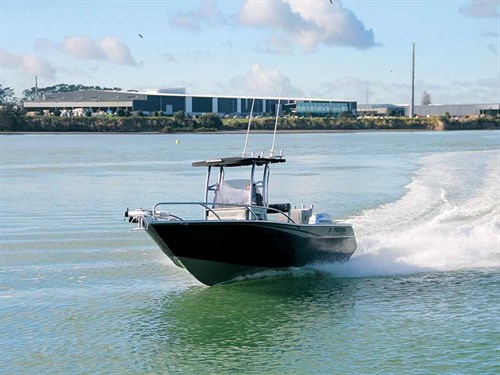 COCKPIT AFT
The first noteworthy feature of the 570 CC's aft arrangement is the generous size of the split boarding platforms and the carefully placed horizontal and vertical transom rails to assist divers coming over the port transom. The 570's mid-height transom walk-through also facilitates easy access to the cockpit if conditions don't favour removing dive tanks and gear on the port aft platform. The starboard platform opposite is fully optimised for fishing. Here you'll find a circular cut-out for the drop-in burley pot and a fully plumbed tuna tube scalloped into the aft face of the transom.
The boat's extraordinary level of detail is evident in what has to be one of the most practical, functional and well-executed bait stations fitted to a sub-six-metre trailerboat. The station is fully fabricated and integral to the transom. It is a sizeable unit and has to be to accommodate the pair of sliding tackle drawers that disappear into it. On top you'll appreciate the securely held reversible baitboard and four rodholders fanned across the aft edge. The design is excellent but the workmanship in creating the curvature of the drawers and overall aesthetics is first class.
The 570 CC's batteries, parallel switches, plumbing and pumps for the saltwater washdown, tuna tube and livebait tank are fitted in a pair of enclosed transom lockers built well off the cockpit's heavy-duty aluminium checkerplate sole.
Immediately forward of the bait station is a large double-hinged under-floor fishbin. Stowage within extends well forward and out each side with ample depth to accommodate additional dive bottles if required. Forward again is the centre console's double bench seat with reversing lumber bar and matching tackle drawers built within. This unit is built well up off the cockpit sole on a fabricated plinth designed to accommodate a large slide-in chilly bin.
Again, the engineering and finish is excellent and further demonstrates Extreme's clever use of space. Worthy of special mention is the way this builder has catered for the competing demands for cockpit stowage. While the 570 CC provides a pair of very substantial mid-length cockpit shelves, these are too short for rods. Ordinarily this could be forgiven on a sub-six-metre boat but look hard and you'll see that this has in fact been addressed – and in a very smart way. Walk forward of the centre console and you'll find a double set of rod tubes built into the box coamings. This level of detail comes standard and is why this boat is a winner.
CENTRE CONSOLE
Love them or hate them, centre console designs are a pragmatic solution to maximising a small boat's fishing potential. While centre consoles might have limited appeal in New Zealand's temperate climate, the benefits inherent in full walkaround deck access are obvious. Extreme Boats has gone about as far as practicable in providing protection for the driver and passenger, with a large acrylic wraparound windscreen and an overhead bimini, but the reality is there is no escaping the elements.
This aside, the centre console fitted to the 570 is a very smart piece of work, with design features more likely to be found on superyacht tenders. Not least among these is dive bottle stowage neatly folded into the console unit at deck level and a foot/knee moulding for the driver and passenger.
Large by any measure, the console dash is no less a busy place being home to the majority of the boat's instruments and switches. In this instance the cluster includes the optional Lenco trim tab controls, remote switching for the Maxwell RC 6 windlass and a double bank of switches for the Hella LED lighting kit, 12V accessory plug and the boat's pumps. Alongside these you'll find a Lowrance HDS-9 Gen3 touchscreen multifunction unit and Honda's impressive digital engine display flanked by a reversed engine remote. The hydraulic spoke wheel is centrally mounted below the dash and in company with the FUSION MS-UD650 stereo and VHF radio.
The aesthetics of a centre console centre on the design of the targa that supports it and Extreme has got this right with big radius and polished alloy posts securely welded to the cockpit sole and heavily braced fore and aft.
Atop the targa is a five-gang alloy rocket launcher, a pair of VHF whip aerials and a powerful forward-facing LED floodlight. Overhead protection comes courtesy of a smart black Sunbrella bimini with a handy chart pocket sewn in underneath.
Moving forward, the console carries a second double bench seat with two-tone embossed upholstery that seamlessly ties the seat back and seat together and reinforces the designer's emphasis on style. Lift the seat up and you'll find a cavernous stowage locker with an ingenious false floor at cockpit sole level. Lift this and beneath is dedicated stowage for additional dive bottles. Stowage options are further enhanced with a second under-floor locker immediately forward of the console and within an upholstered bench seat set across the vee of the bow.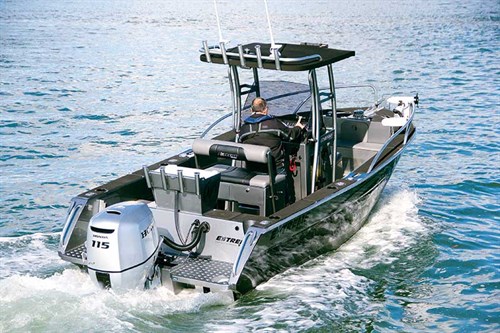 DECK LINE
Above all else it is Extreme's innovative approach to the 570 CC's deck and hardware mounting that sets this boat apart. The photos tell the story but the fittings, and most notably the bollards, are recessed into the cockpit coamings and foredeck platform.
The advantages are clear. It provides an unencumbered coaming that is better to fish and move around on and one that allows you to dictate which part of the boat you're going to fish from. Similarly, the recessed rodholders are effectively flush-mounted courtesy of Extreme's generous use of non-skid adhesive rubber on the coamings and foredeck. Notice too, recessed cupholders and additional flush-mount rodholders that fan across the foredeck and the screw-out mounting caps for the additional bait/rod platform bases supplied as optional extras.
This level of detail extends to the anchor winch which has been mounted on a secondary sacrificial alloy plate for increased durability along with anti-chafe protection of the foredeck. Similar thought has been given to the mounting base for the optional electric Minn Kota trolling motor.
PERFORMANCE
Sharing the same bones and internal anatomy as the Extreme 570 Game King, it is a given that the 570 CC is well-engineered and built to take the knocks, with a solid 5mm hull and transom and 4mm topsides and cockpit sole. The design is approved to survey requirements, includes four large sealed buoyancy tanks, and carries New Zealand's own and Coastguard approved CPC compliance plate. And like all Extremes it is fitted with the now ubiquitous flooding keel for improved stability at rest and sacrificial keel protection.
The 115hp Honda four-stroke that is fitted as standard is an acknowledged compromise between performance and efficiency but it is an acceptable match if you're not intent on loading the boat down.
However, stepping up to a 135 will pay dividends if you're planning to keep the boat's optional 140lt fuel tank topped off. Similarly, dive parties will appreciate the extra horsepower given the weight of their gear.
The verdict
In summary the Extreme 570 Centre Console is an awesome package. It is a boat full of surprising detail that reflects the innovative approach to its design and build. It is a worthy winner in its competition category and won't fail to impress as a dedicated and well-executed fishing platform.
Looks-wise, it is a struggle to imagine how the 570 CC could be improved. The boat is stylish, immaculately finished and presented. It offers excellent dedicated storage options for fishing and diving, is easily managed and has the pedigree and safety to venture with confidence beyond harbour limits.
HIGHS
Excellent build quality and finish.
Innovative deck and coamings.
Dedicated dive and fish storage options.
Blisteringly good looks.
Sophisticated styling.
Underwater and cockpit shelf LED lighting.
LOWS
Restricted headroom under targa when stepping from cockpit to raised bow platform.
Keep up to date with news from Trade-A-boat or like us on Facebook!