Sealegs 6.1 Sport RIB Amphibian Review
---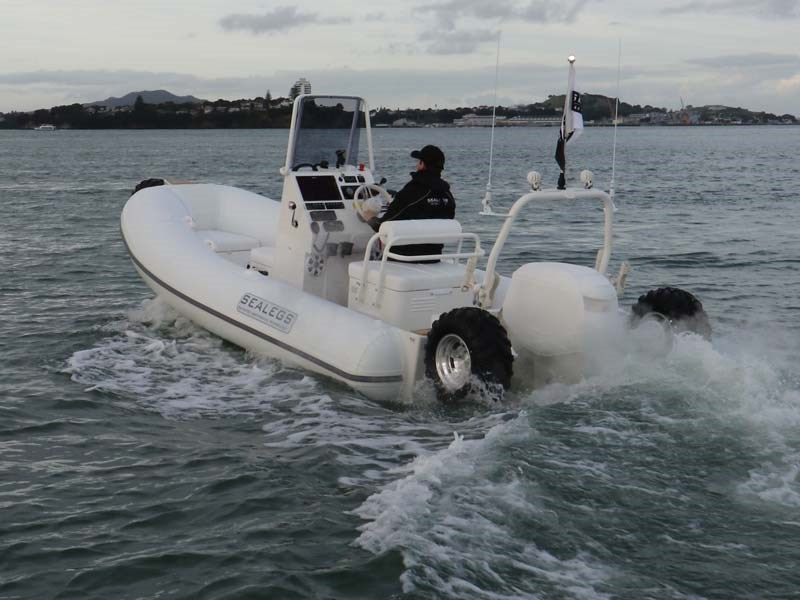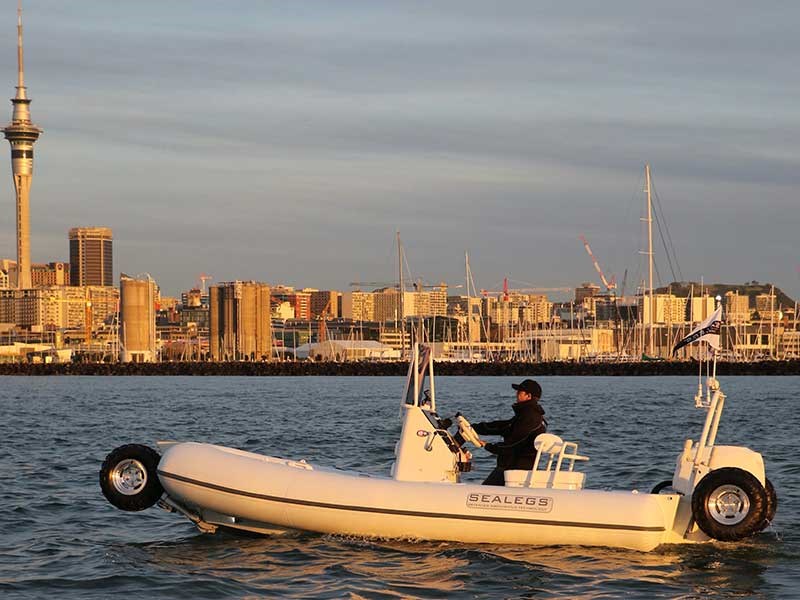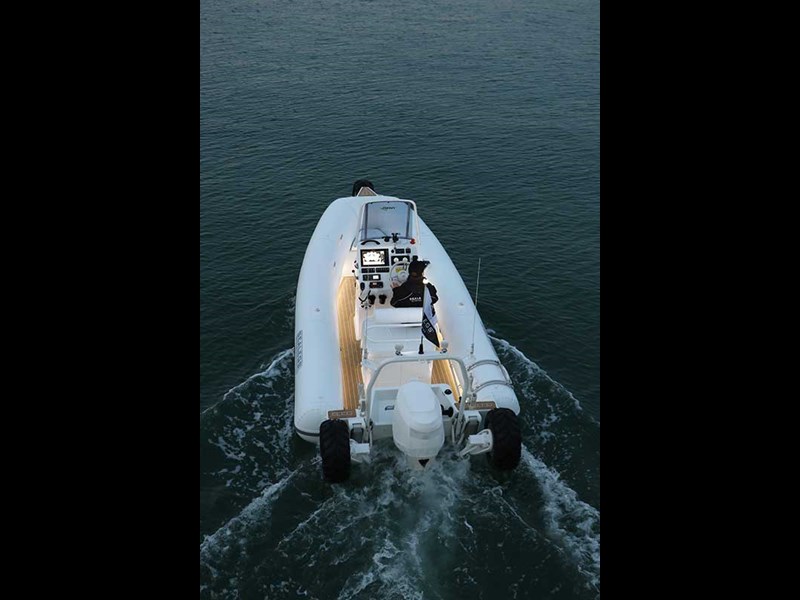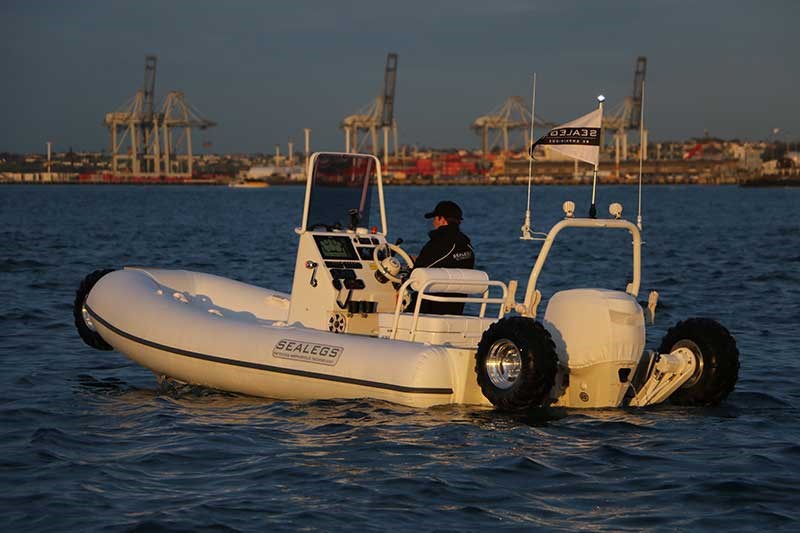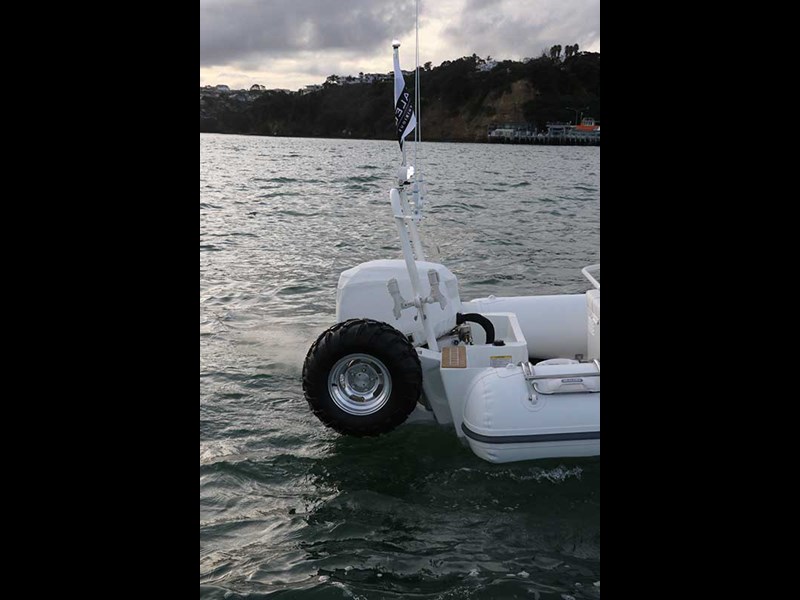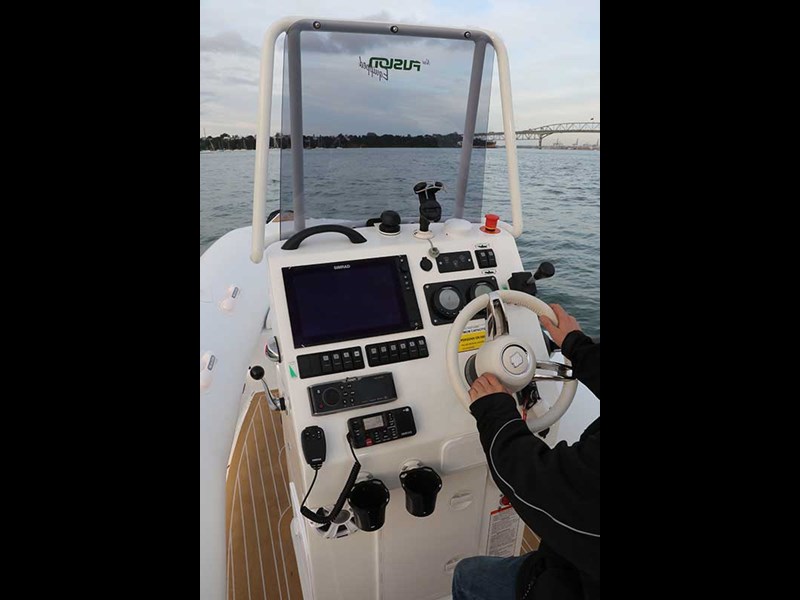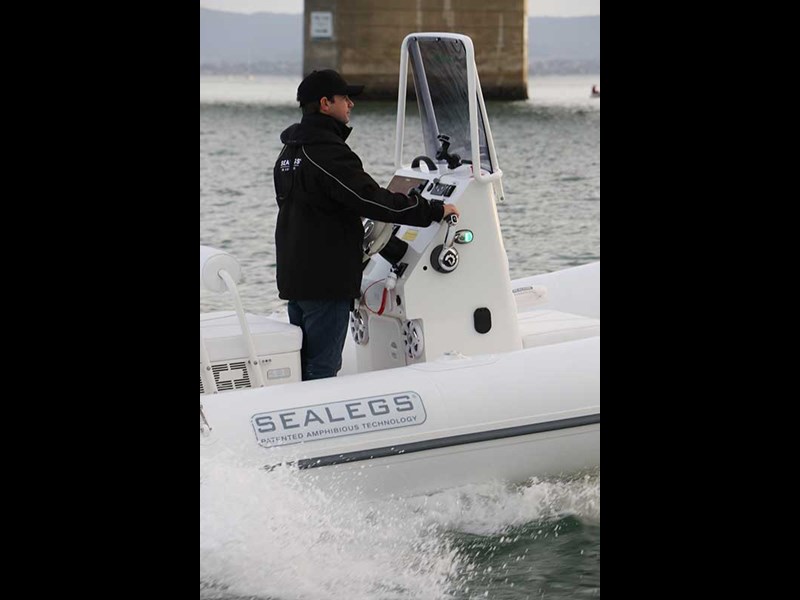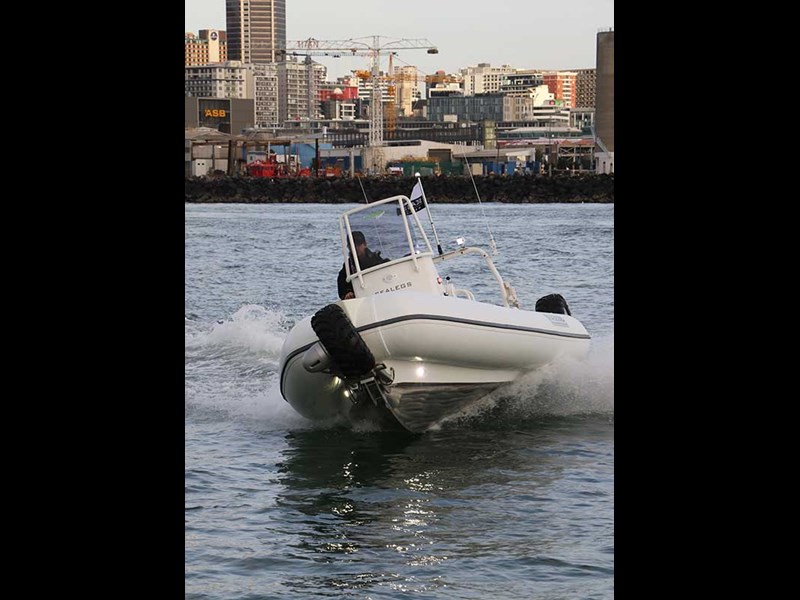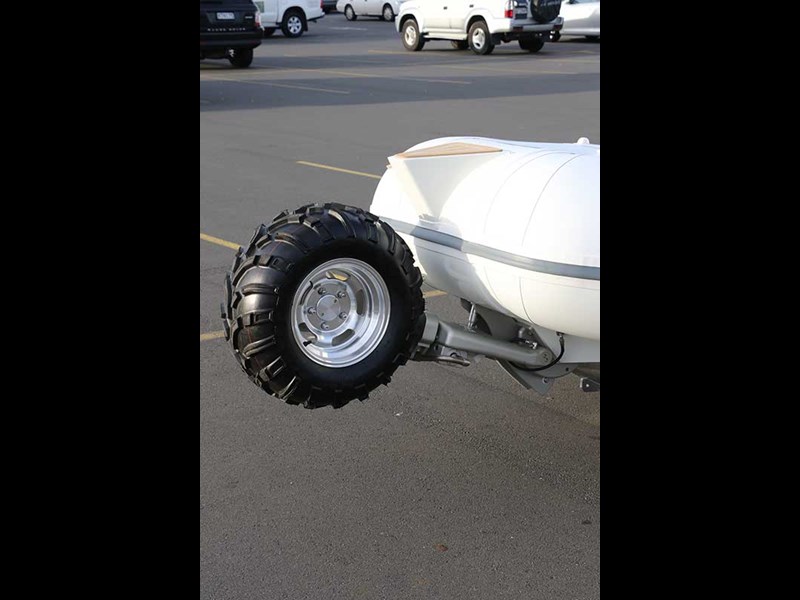 Trade-a-Boat takes a closer look at Sealegs' recreational 6.1 Sport RIB Amphibian.
In the 10 years Sealegs has been building boats, it has also been creating technological breakthroughs in amphibious craft – unique assembly-line engineering and qualitative high-end specifications – for one purpose: to bring manoeuvrable, fast, light and capable boats to the water without a support vehicle.
The aim is to do away with launch and retrieval hassles forever. While that may seem a niche corner of the industry, more than 1000 vessel sales and licensed OEM deliverers internationally, it's clear that niche is more of a large gap in the market. Sealegs is a genuine hit and has become a valuable addition to the NZ marine industry – 70 per cent of Sealegs sales go offshore to more than 50 countries, the lion's share to North America.
At home ownership is a privilege and brand loyalty is high, with 20 per cent of Sealegs sales going to existing customers upgrading to larger versions. The build quality is exceptional, as is the attention to detail and finish. A factory tour at Albany, Auckland, revealed a clean, busy and modern multi-million-dollar plant turning out every part of the Sealegs boat and amphibious drive systems to exceptional tolerances – less than 1mm in the hull, for example.
The die-cut aluminium for decks and consoles is exactly the same every time, and all components such as consoles, hydraulic drive motors, hatches and cabling systems are also built onsite to exact specifications. Every part is machine milled, then treated for maximum ability to withstand temperature, salt and water. The hydraulic drive motors have no electrical components so long-term water immersion poses no issue.
The factory holds stock and inventory of every part, so replacement of something like a hydraulic hose is simple and easy to order and fit. With 60 staff employed at Sealegs it's a large and innovative operation, and even the US military has taken notice – I recently had the privilege of going aboard a US Navy vessel using the Sealegs Amphibious technology at the On The Water Boatshow in Auckland. The brass were excited at the possibilities and said so. This pioneering company and its clever Kiwi technology are going places fast.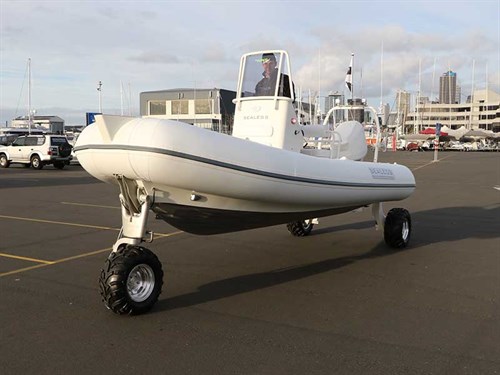 TECHNOLOGY
Exactly the same technology that goes into building the boats used for coastguard duty in NZ and the USA goes into recreational vessels. On land the 22hp Honda GX690 fires up under its purpose-built aluminium cabinet and drives a hydraulic pump that powers the all-wheel-drive system up to 7km/h, as well as the hydraulic lift rams that raise and lower the wheels.
The original Sealegs model was limited to 10 minutes driving on land as the oil heated under pressure but with the XRT – Xtended Run Time – cooling system, this is now an ample 30 minutes. The hydraulics can also raise and lower the hull on land. Steering is by way of the sport steering wheel – it controls the outboard at sea and the front wheel on land – and the power steering can be turned off when underway on the water.
With all controls easy to use from the standard helm position, driving down a launch ramp into the water for the first time is a bit of a giggle and the transition is smooth and seamless. Fire the Evinrude 115 as soon as it's underwater, switch off the hydraulic motor once the wheels are retracted, et voilà!
Returning to dry land is also simple. Approach the ramp or beach at an even pace, fire up the hydraulic engine, lower the wheels, and, as the front wheel starts to get traction, raise the outboard and switch off as the rears hit the land. It all seems straightforward.
Our 6.1 was very clean and white throughout, even the engine cover was white. It's quite a statement and looked very sharp on the water. However, it truly came into its own at dusk. Returning from fossicking around in the Viaduct Basin we fired up the strip lights inside, under the white Hypalon pontoons. It glowed brilliantly, as did the massive Fusion stereo, with white lights in the six speakers and 10in subwoofer-equipped system.
We politely waved goodbye to a few old salts watching the sunset before firing up Crowded House at sonic weapon levels. For a few moments the hull nearly levitated – this thing pumps when you want it to! It's a party boat addition to the superyacht.
It certainly looks the biz with forward-facing hull lights, used on land mostly, and its ski brace-mounted twin spots.
The technology doesn't stop there. At the console is a Simrad 12in that boasts the latest in engine and ship management, as well as chartplotter, GPS and fishfinder functions. An attractive analogue simulation screen shows dials and is simplicity itself to use. An array of switches allow for lights, bilge, power steering, nav lights, wheel lowering, and various other functions. A Simrad VHF nestles to the left hand.
The sport steering wheel is attractive but I found the helm position a bit snug but not a major drawback. Technologically she is a little masterpiece – well thought-out and offering very smartly delivered electronic capabilities.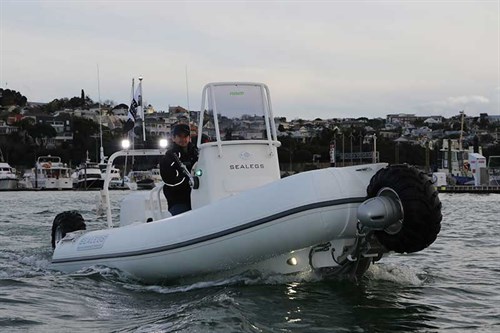 PERFORMANCE
On the water she behaved well, taking a slight slop with ease and keeping dry in some very tight turns. She tracks unflinchingly and the big Evinrude at the back certainly picks her up well. But the additional weight at the stern – the two big hydraulic mounts and wheels – does add drag a little on her 'out of the hole' performance. Usually, I was informed, the 6.1 is delivered with a 'permatrim' to facilitate this, but the longer waterline lengths do not require it.
It was a minor niggle as the plentiful power slapped us up to 35kt in moments. Of particular note were the lack of hull noise and the firmness of the ride. I noticed at the factory that with four full-length stringers and seven gussets, this hull should be outstandingly strong for its size. As the hull also incorporates the front and stern wheels' drive systems, the hull is more of a chassis – it holds the boat together on a massively strong foundation. As a result, on the water the vessel holds and tracks with real assurance. I liked that a lot.
Attention to detail is impeccable throughout, fastidious even. For example, wherever stainless steel meets aluminium there's always a washer or isolating plate. The deck has aerospace riv-nuts so as not to wear threads in the deck itself. This level of quality means the boat will maintain its plush integrity for many years.
As a tender for a superyacht this is really going to look the business flashing about with a chic all its own that belies the stocky muscularity of the build and the capability of the hull. Used in a local waterway, without the need for a tow vehicle, it will probably pay dividends.
Anecdotally, owners say that because it's so easy to launch, retrieve and store, they tend to use it far more often than any other boat they'd previously owned and I can see that being true.
Make no mistake – these boats turn heads, and while I had some initial misgivings about the aesthetics of a couple of big hunks of black rubber front and rear, looking at it from the sea, they impart a note of serious ability and intent.
I also like the failsafe braking system – if the vessel should have an engine failure or a hose bursts, the brakes are automatically applied to stop the boat from rolling away.
The amphibious technology has taken a while to make serious inroads but increasingly, as they continue to prove their reliability, quality engineering and serious useability, they are gaining a stronger foothold.
This vessel isn't cheap, but it does house some of the world's cleverest and most robust amphibious craft technology. As well as being a terrific fun boat, whether towing skiers, zipping bikini-clad models around a harbour or popping out for a quick snorkel with mates, this is a serious workhorse that also looks terrific. Being able to drive home, flash a hose over it and have it look a million bucks at the end of the day is a fine incentive. My fantasy, though, is of zipping along some beautiful blue lagoon, rolling up into the coconut palms on Honeymoon Island and cracking the champers. Then driving back down the beach – no matter the tides – whenever you damn well feel like it. Freedom, I guess. If you can do it, why wouldn't you?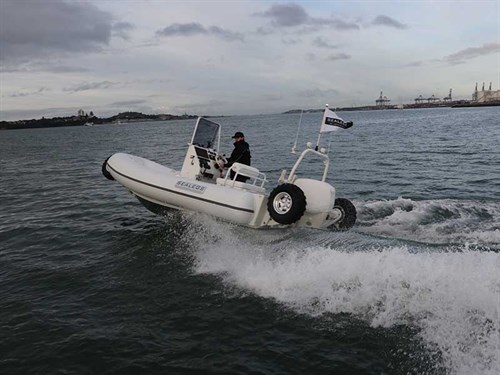 The verdict
A convincing combination of technology and performance, perfect whether it's attending a superyacht or getting you in the water from your beachside home. The price of entry is high but the build quality and sheer convenience will pay you back in the long run.
Pros
Quality finish
Ease of use on land
Quality Fusion Entertainment
Cons
Price
Slow out of the hole
FACTS AND FIGURES
Sealegs 6.1 Sport RIB
PRICE AS TESTED
NZ$171,000 + GST
OPTIONS FITTED
Masses of FUSION entertainment, ABS, AWD, XRT, power Steering, Navionics suite, white upholstery white ski tower, backrest and windscreen, Tekdek flooring, custom outboard cowling cover
PRICED FROM
NZ$130,000+ GST
GENERAL
MATERIAL Hull 5mm 5086 marine-grade aluminium; tubes Hypalon Orca 822
TYPE Amphibious monohull
LENGTH 6.13m
BEAM 2.46m
DEADRISE 21 degrees
WEIGHT 1150kg (boat and motor)
AMPHIBIOUS SYSTEM
HYDRAULIC TRANS MOTOR 22hp Honda GX690
DRIVE All-wheel
CLIMB ANGLE Up to 11deg slope
BRAKES Automatic Braking System
DRIVE TIME 30 minutes on land
TYRES 25x12in all terrain on 12in alloy rims
CAPACITIES
PEOPLE 6 or 500kg
FUEL 80L underfloor
ENGINE
MAKE Evinrude E-TEC
TYPE direct-injection two-stroke
RATED HP 115
PROPELLER 14.75x17in stainless steel
SUPPLIED & MANUFACTURED BY
SEALEGS International
5 Unity Drive
Albany, Auckland
PHONE +64 9 414 5542
Keep up to date with news from Trade-A-boat or like us on Facebook!