Image Boats 7.08m Pontoon Alloy review
---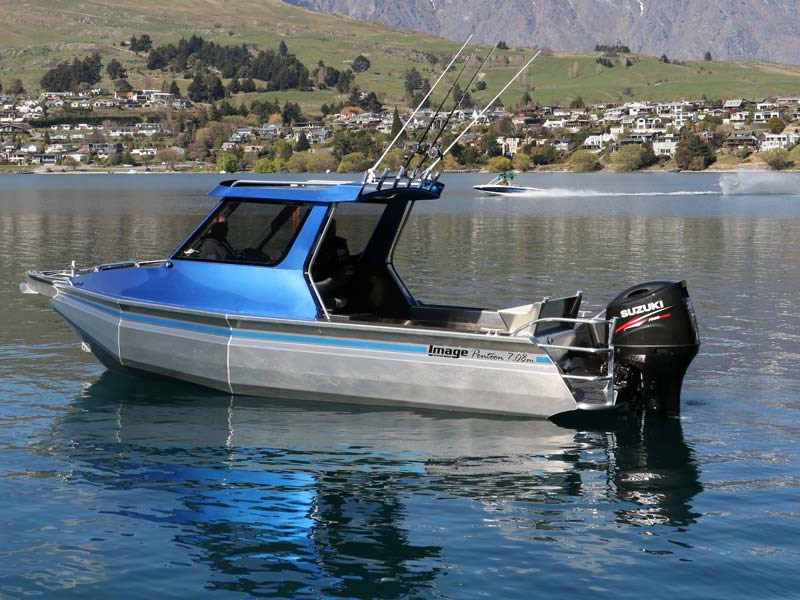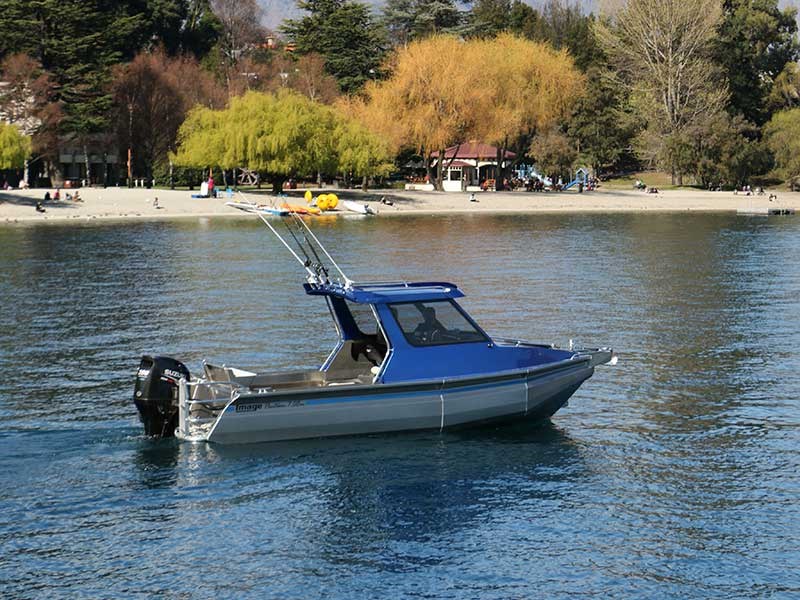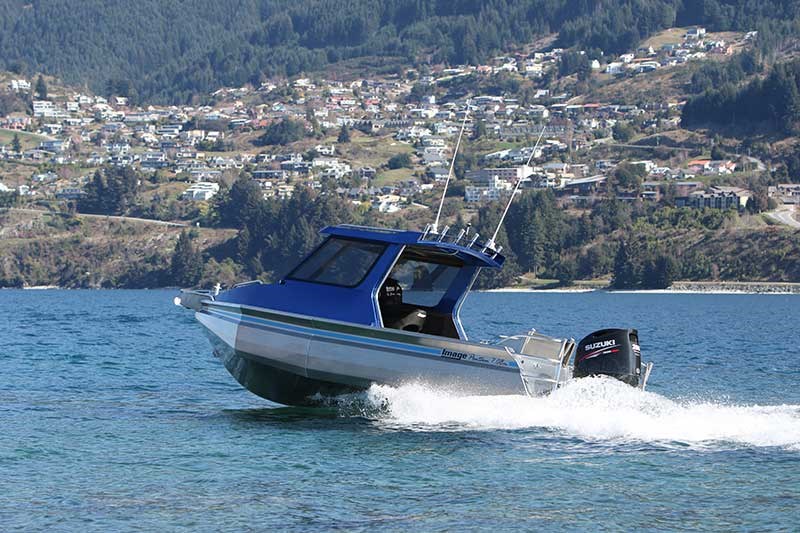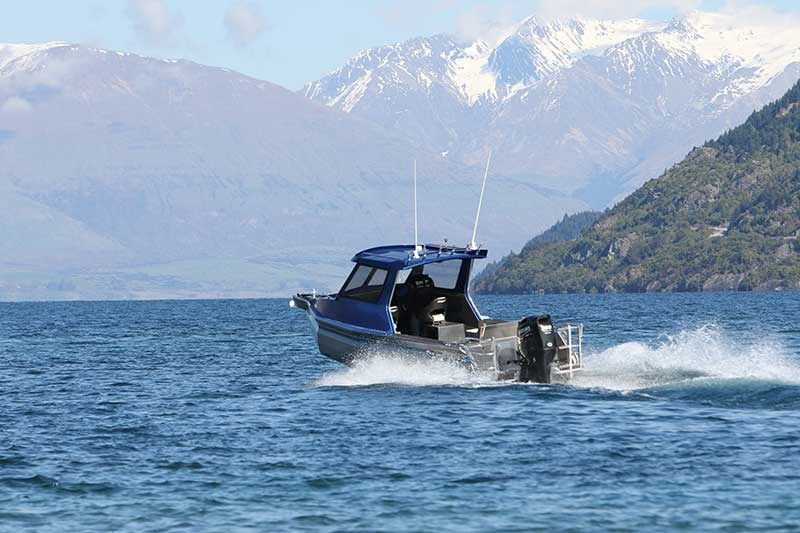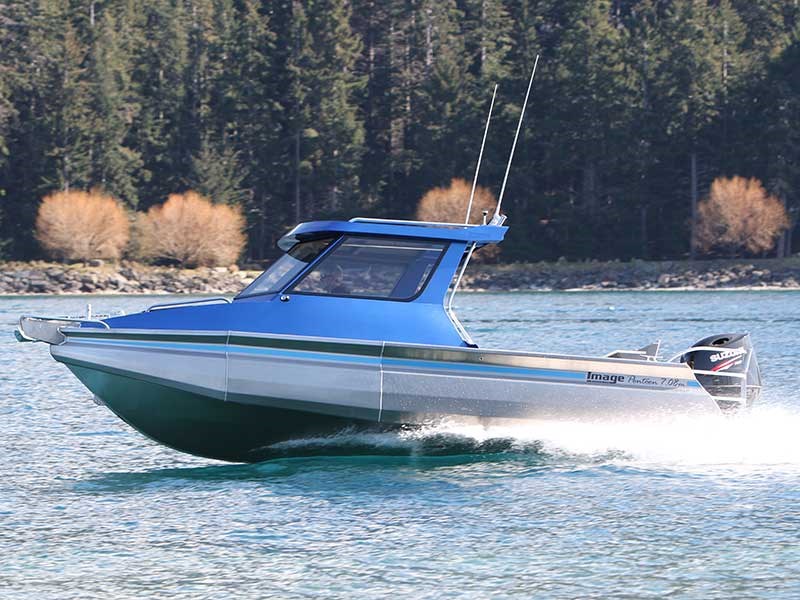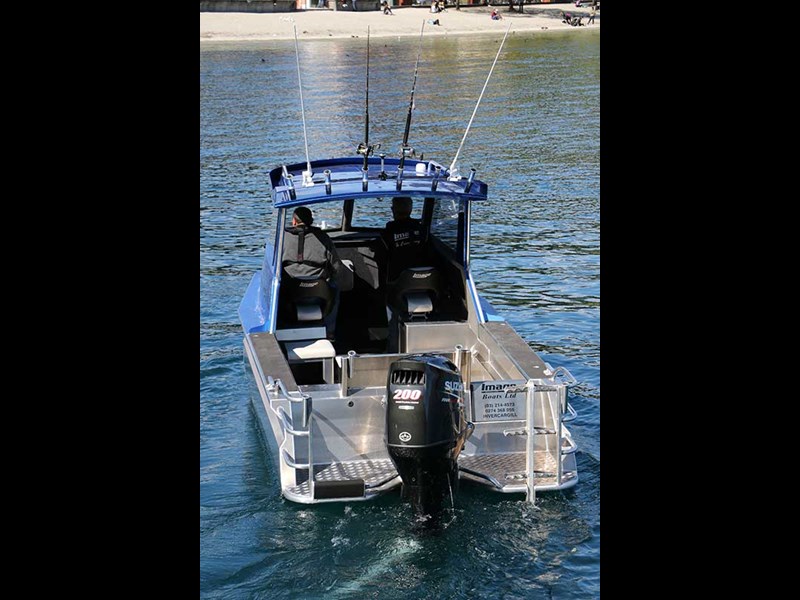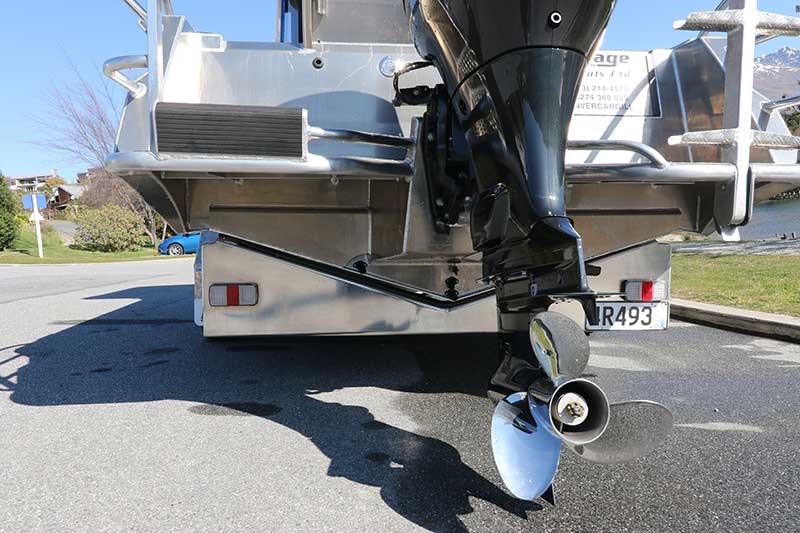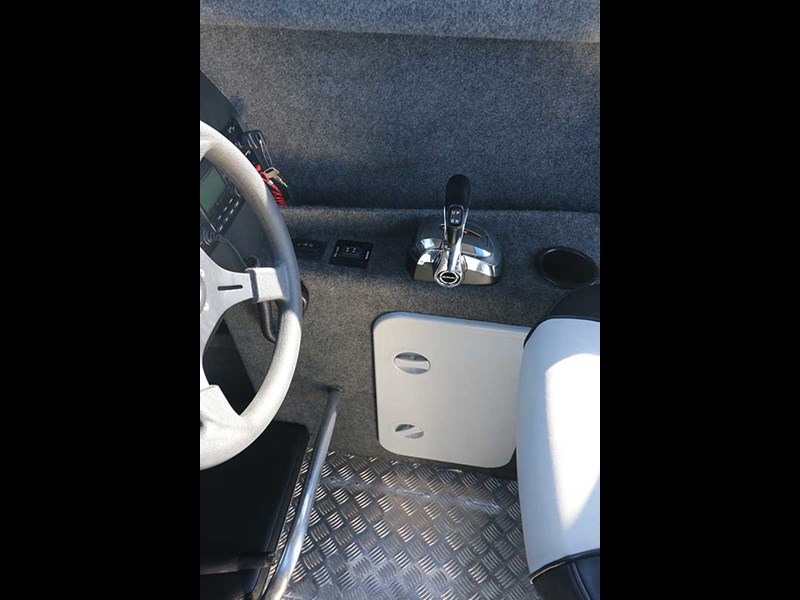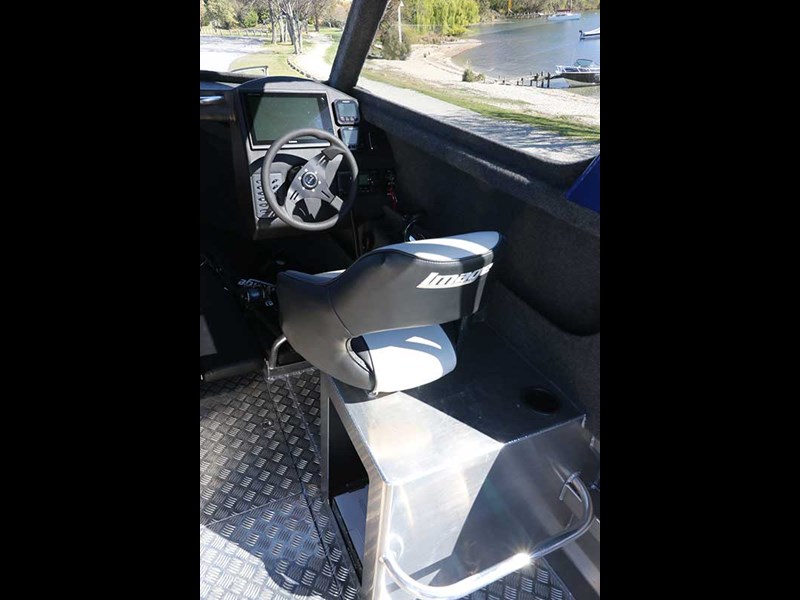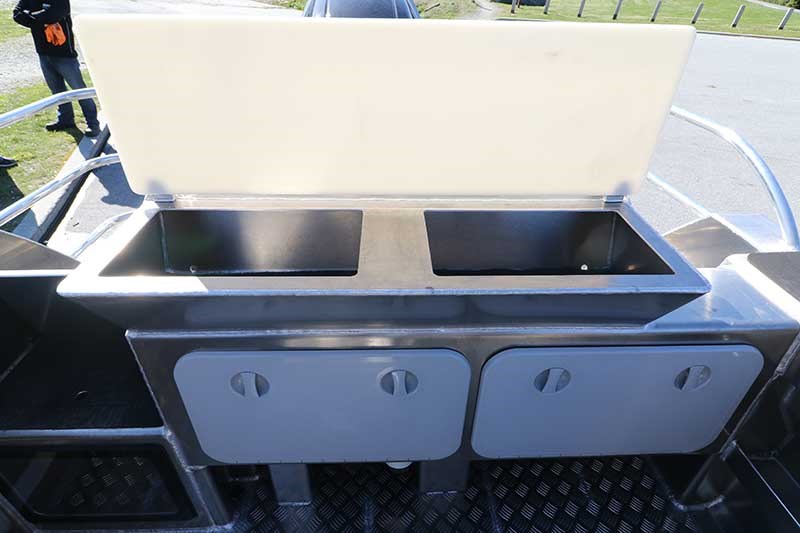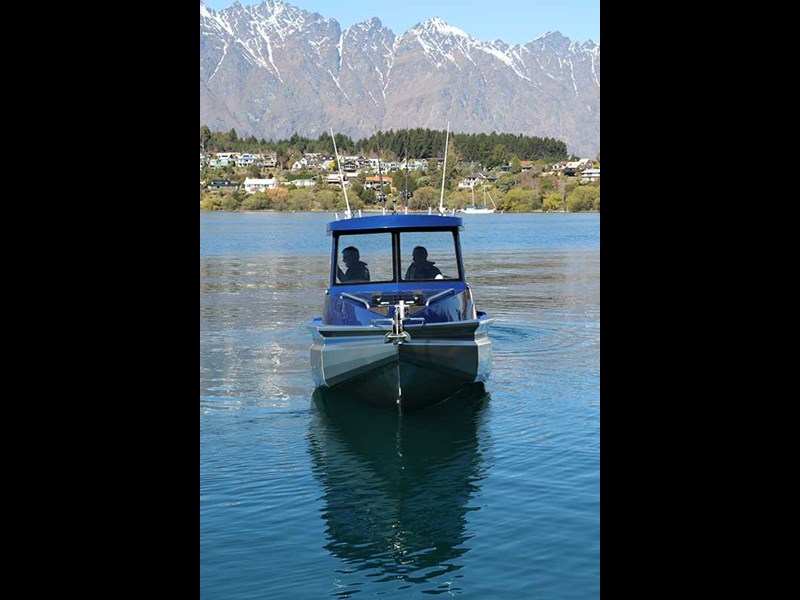 Check out this review of the impressive 7.08m Pontoon Alloy by Image Boats, which our boat tester took out for a spin one stunning day in Queenstown…
The greatest thing to happen to alloy boats in the last decade is the continuing development of flotation technology, stability, and most of all, aesthetics. The early generations of pontoons were serviceable in the extreme, with notoriously hard lines and about as nautically attractive as a car accident. Part of the joy of boat ownership is the look of the thing; we don't buy ugly cars or houses and boats are even more susceptible in the beauty stakes. It has to appeal.
So when Dean Wilkes, designer, builder, and owner of Image Boats rocked up on a sunny spring morning to Queenstown's Kelvin Heights boat ramp with his newest addition to the fleet—a gleaming blue and silver Image 7.08 Pontoon—I was pleasantly surprised. Coming from the deep south and Foveaux Strait's testing waters, I was expecting hardy and serviceable, and maybe a bit of staunch, and certainly, later it proved to have those qualities in spades, but it gleamed and radiated like a good-looking woman ready for a big night out, sitting snug and square on her tailor-made trailer.
With confident lines, gleaming two-pot, baked paintwork in snappy blue, she was attractive and lived up to her name. A fine image indeed.
The trailer
The dual axle trailer is actually one of the best I've seen—purpose-built by Image for each boat and without a single roller in sight. A light touch of the brakes at the boat ramp and she slid free and clear with no fuss at all. Later, returning after a great day on Lake Wakatipu, Dean demonstrated why he doesn't use rollers. He drove into the trailer at 45 degrees, with a bit of way on, saying, "If [the] wind, waves, and river currents push the boat around, it doesn't matter. It's self-correcting, and you'll never break a roller."
Taking the Pontoon Alloy for a spin
With a tap of throttle, we slid quietly up to the gate, straightening gently, hull fully supported, with no pressure points and neat as a new pin. Like a lot of things about the Image, there's a lack of ostentation, but rather a serious commitment to doing things simply, properly, and well.
Queenstown turned on a fabulous day, with lots of happy springtime folks bounding around, paragliding, boating, kayaking, floating under towed parachutes, and even taking part in some mad, shark-shaped submarining. So the weather was not a factor. We certainly were not going to find fierce southern ocean elements, but we did our best to test the boat anyway. Lunch in the extremely pleasant surrounds of Walter Peak station beckoned, but we had things to do before that.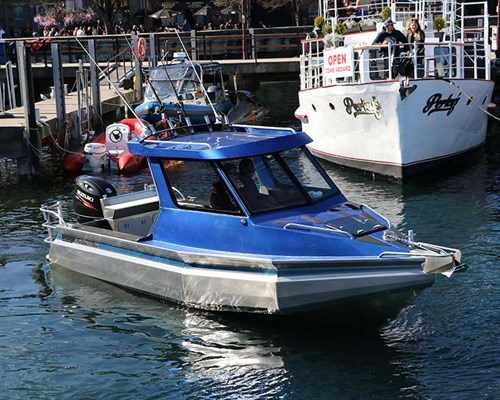 For diving
Stepping aboard, one of the first things I noticed was the Portofino transom, with a walkthrough on the starboard side of the boat, and this was odd to my eye. Dean explained that the reason for this placement of the ladder and access came from his experience as a paua diver and dealing with divers at the surface. With the diver on the same side as the helmsman, he can keep the diver in view at all times as he manoeuvres the boat, and this greatly increases the safety of all concerned. If it was on the more common port side, the helmsman cannot see the diver when they are behind the transom or down the non-visible port side of the boat.
This sort of clear thinking is apparent throughout. The pontoons themselves differ from others, as much of the buoyancy is within the gunwales themselves, with less lower down. Again, explaining his thought process, Dean outlined that some pontoon boats, while virtually unsinkable, did have an issue with rolling over if swamped, and the higher up the buoyancy in the hull, the more likely it is to stay hull downwards if the unthinkable happens. Clever and simple.
Layout
The layout too is simple and uncluttered. The cockpit sole is roomy and ready for fishing action, with wide gunwales surfaced with rubber tread and toe kicks under the lower pontoons for anglers to work close to the sides in comfort. An 800gph bilge pump drains the rear. Above that, in a sealed locker, is the single battery and isolation switch. On the transom is a 1200x300mm hinged polypropylene bait board with storage beneath for tackle, lures, and soft baits. This is at the perfect working height and is a simple, clever solution to having everything safely and easily at hand for rigging, and well out of the way when suddenly taking off after a work up.
A rod holder in each corner increases the trolling capacity provided by four-sealed gunwale-piercing rod holders, with a further one in each corner of the duckboard cages to either side. These duckboards are wide and deep, giving an exceptional platform for divers divesting of their rigs.
I am a great fan of stern cages. I think they offer safety, look good, finish off the stern and balance a boat—to my eye—but it's also by far my most preferred working area for fishing. On the Image, these cages look great. The strong three rung aluminium ladder, which seems to meld with the cage lines, hinges up and drops into a holding slot, but drops way down, well below the surface, again adding to the ease of entry for divers and swimmers.
The wheelhouse and forward cabin are fully lined, and the front cabin itself is wide open, perhaps reflecting storage rather than comfort. Certainly, at only 1700mm deep, with the black upholstered infills in place, it would be harder to stay overnight for someone of my 183cm frame (having stolen those extra few centimetres, though, they are put to good use in the cockpit). Access to the forward Lewmar anchoring winch and locker is either on the non-slip decks around the cabin-top or through the good-sized front hatch.
The anchor is firmly snigged up against a grunty bowsprit and roller, with a strapping anchor post for rope wraps alongside. Handholds are good, but I would opt for the bow rail. I think they add a good look and offer greater security upfront, especially in a seaway. The wheelhouse is large—I think in a nod to its southern ocean heritage where the elements can be troublesome. The space is deep enough to keep the wet stuff well outside the helm area.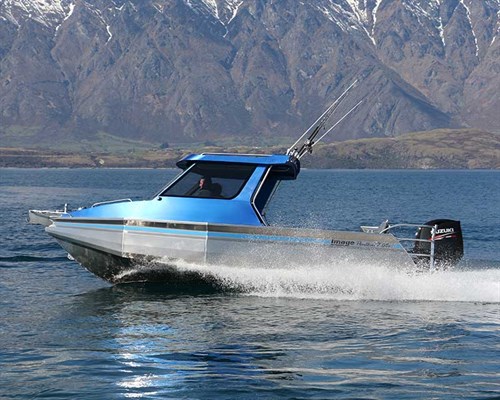 The forward dashboard is again roomy for binos, caps, new lures, coffee cups, and sandwiches and all the everyday what-have-you that accumulates around a skipper's whims.
Image also makes and upholsters the seats that sit atop pedestals with storage under. These slide and adjust easily and offer a good view through some of the biggest glass I've ever seen on a trailer boat. The split windscreen is made of 5mm toughened glass forward and 4mm toughened glass to the sides. There is no sliding these puppies; they are built to withstand serious greenies and more.
The helm position is well to hand with a 12' Garmin GPS Map 7412XSV flat screen providing the management and helming data, bright and clear. No reflections either, with the steep angle of the screen. The helm dash is upholstered in black and houses dual digital Suzuki engine/fuel data instruments. Clear and precise. To the right hand is the Suzuki control lever, one of the most pleasing to the hand. And below that is a trolling button control for the motor, which increases or decreases in 50rpm steps to set the perfect trolling speed for any conditions (Yeah, yeah, I'll get to the engine in a minute).
VHF radio duties are pulled by a Garmin 100i. In the cockpit, there are the ubiquitous shelves for rod and reel storage, supplemented by a six-pot rocket launcher aft of the cabin top. Welds throughout are solid and clean and the workmanship delivers a great finish. Under the floor are two large, lidded storage bins and 250 litres of fuel. One minor niggle—these lids were loose, and since it was not hinged, it occasionally moved a bit underfoot, causing moments of worried double take.
Engine
Now, the propulsion duties are delivered with aplomb by a whisper quiet, smoother-than-silk but fire-breathing little bastard, lashing 200 Suzuki horses. The four-stroke DF200A is beautifully mated to this hull. With almost no vibration at any rev range, holeshot performance that would please the most peevish wakeboarder, and a blistering top limit of 6200rpm, it pleases.
With three reasonably lumpy guys on board, we flew up to 70km/h easily. The Image's pontoon hull cuts through large wakes with ease, with little of the banging lift that some pontoons tend towards, and imparted the usual excellent stability while at rest. The 17-degree deadrise means this boat hangs in the fiercest corners, and I must have provoked Dean when I asked if the pontoons added to sideways slippage. He insisted on proving the contrary the hard way and our companion Russell, although warned, was actually unable to hold on and flew across the cockpit sole looking startled.
The grip in the water is staggering. With fuel economy figures looking pretty good, this package is the business. Big enough to get you out and back no matter the weather, fast enough to thrill the spots off you, and pretty enough to show your pickiest girlfriend. This fine piece of southern precision will pay dividends in the long run. Yes, it is relatively bare of frill, but what is there, will still be there, delivering excellence, in 10 and 20 years.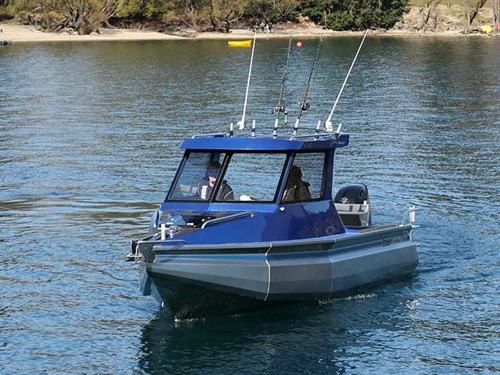 The verdict
One final point. We had lunch at the fabulously picturesque Walter Peak station—a perfect, blue day in the brilliant sunshine, back-dropped with hazy mountain snow-caps, while the stately queen of the lake, TSS Earnslaw, steamed into the bay. Hard to beat, but some of the tourists were taking pictures of the blue Image, anchored just off the beach.
She must have looked inviting and fun to those dining on the balcony; a party of four was prompted to ask me if we had room going back. We didn't. We had work to do—ahem—so we went and worked on cold, clean, crystal clear, sun-kissed water, in paradise. Oh, it was tough. As I said, it's hard to beat being out in that great New Zealand outdoor magic, when weather, location, and boats-as-good-as-this, combine.
Facts and Figures
Price as tested: $119695.00
Motor only: $30,123.00
Material: Alloy
Type: Trailer boat
Length: 7.08m
LOA: 7.36m
Beam: 2.36m
Freeboard: 735mm
Deadrise: 17deg
Construction: Marine grade Aluminium
Weight: 1350
Tow Weight: 1725kg
Engine: 140-200hp
Fuel capacity: 250l u/floor
People capacity: 8
Trailer: Image Tandem axle c/w mags.
Engine: Suzuki DF200A Select Rotation
Type of engine: 4 stroke, DOHC 16-valve, Inline 4
Weight: 226kg
Engine Displacement: 2867cc, 147 kw
Propeller: Stainless 17"–27.5"
Gear Ratio: 2.50:1
Boat supplied by Image Boats
24 Bay Road, Invercargill
Keep up to date with news from Trade-A-boat or like us on Facebook!