A day with Epic Adventures fishing charters
---
What's it like to spend a day with the Epic Adventures fishing charters? When the skipper says that catching a Personal Best kingfish is a daily occurrence, you know you're onto a good thing.
If you're looking for the best coromandel fishing charters, go no further than Epic Adventures. Located in the stunning surrounds of Mercury Bay, Epic Adventures calls both Tairua and Whitianga home. But this is no coincidence – along with laidback locals and stunning coastal scenery, both these both locations also hold large numbers of XOS kingfish – if you know where to look.
---
Check out Matt Jones's review of Coro King, the highly customised Senator RH690 aluminium fishing boat used by Epic Adventures. See what the best boats in the business look like — the ones used by the professionals.
---
AN EPIC ADVENTURE BEGINS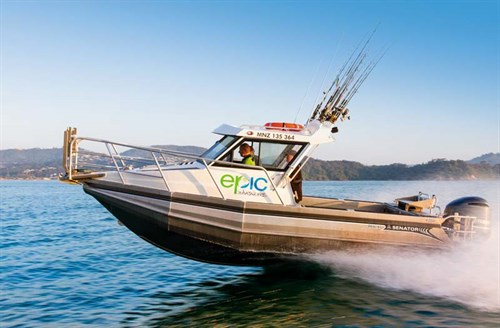 We met at the wharf to be greeted by a stunning sunrise and our guides for the day – skipper Owen Wills and Epic Adventures charter owner Roy Veal. Owen's charismatic wit and Roy's relaxed nature set the tone for a thoroughly enjoyable adventure.
We cast off the dock and joined the other Epic Adventures boats in their pursuit of fresh jack mackerel to fill the livebait tanks. We didn't have to wait long and you know you're in for an exciting day when even the oversized mackerel baits are taking line!
Three anglers catching three fish each time certainly kept Owen on his toes. Then without warning, a kingie grabbed Bart's livebait on the way up. He had no chance against a kingfish hooked on a sabiki rig, but already the day had a magic feel to it. Tanks suitably stocked, we plotted a course for Cuvier Island's deep offshore pinnacles.
With much anticipation, the unlucky livies were hooked through the nose, before Owen lined up the drift and instructed "four colours".
We dropped them into the depths, counting the colour changes of rainbow braid as it spooled off, to ensure the baits were in the target zone.
My mate Bart "the kingfish virgin" (who to date had never caught a legal Kingfish) had to wait a mere 30 seconds to experience the arm-wrenching pull of a solid 15kg kingfish which was quickly placed on ice.
Not to be completely outdone, I followed suit with a slightly less impressive, yet still sizeable kingfish. High fives all round and another livie was deployed.
IT'S A MARLIN!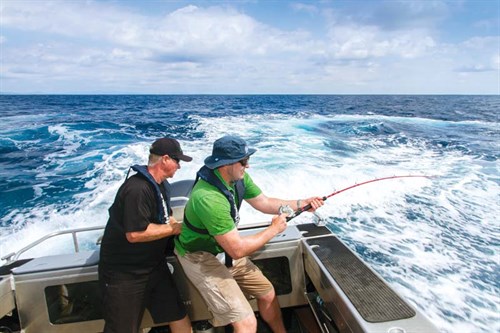 Bart was soon on again with another solid kingfish. As I began plotting how to discretely swap sides to the "really lucky" side of the boat, there was another drop, but this time Bart's line began screaming off the reel at an alarming rate of knots.
Cue one very big splash and "It's a marlin!" cried Bart. All eyes were glued in the direction of the said splash in disbelief, but right on time, an estimated 100kg striped marlin again showed its aerial prowess behind the boat.
A furious grudge match ensued where Bart's body, the rig setup and Coro King's manoeuvrability, stability and fishability were truly tested.
Nearly one hour later, we had it on the leader and things were looking good. But unbeknown to our tired angler, the reel seat had come loose and the reel simply dropped off at the worst possible moment. Despite desperately trying to re-attach it, the marlin seized his moment and with one last run managed to secure his freedom – bugger!
Disappointed yet grateful, we returned to the pinnacles to continue fishing. The kingies went quiet for a while, but Owen's knowledge and perseverance paid off and we finished the day with a double hook-up of 20kg-plus fish for the camera, before heading home thoroughly relaxed and truly satisfied.
THE VERDICT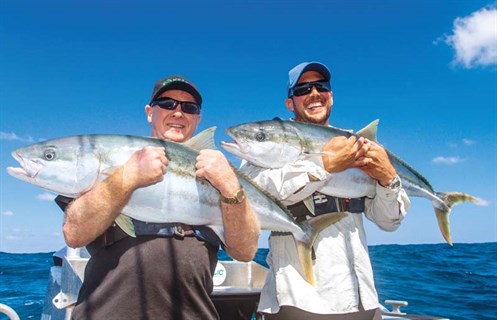 This day with Epic Adventures will rate as one of my all-time greats. I don't think Bart will forget that epic day any time soon either. Of course, as far as memories go, treating the family to a feed of freshly smoked kingfish and sharing the story over a cold beer is very hard to beat as well.
Epic Adventures are a great bunch of blokes with top notch gear, a safe and stable ride and an undeniable passion for fishing and for showing their customers a good time. They know where to find the fish and most certainly know how to catch them.
"Every day we catch peoples' Personal Best kingfish – that's pretty much a given," says Roy.
After that amazing adventure, I certainly can't disagree.
AUSTRALIANS CHASING KINGFISH IN NEW ZEALAND
The lure of big kingfish and beautiful scenery has caught the attention of our mates across the ditch.
"56% of our total customer base is from Australia. Sydney and Melbourne people just love coming to this beautiful spot here in Whitianga," says Epic Adventures owner Roy Veal.
"I understand that if you catch a 10kg kingfish in Sydney it's a big one.
"But we tend to call those rats here. We don't even bring them on the boat – as we're so used to catching 20kg-plus kingfish on a fairly regular basis for our customers."
EPIC ADVENTURES' FISHING GEAR
Here's the fishing gear that Epic Adventures uses to tackle the big green freight trains that are the local Kingfish.
RODS     Ocean Devil 50B ML rod of 200-350g or Composite Developments rods of 150-250g/250-400g.
REELS    PE7 Jigging Master power spell reel; or Daiwa Saltiga 6500; or Stella 20000.
LINE       Saltiga 80lb rainbow braid connected to 6m of 140lb Varivas monofilament shock leader (tied with a PR knot (braid to mono).
SINKER 8oz running egg sinker over the shock leader, with heavy-duty swivel tied with a Uni-knot.
LEADER 1.5m 120lb fluorocarbon leader tied to swivel with Uni-knot.
HOOK    High quality 7/0 circle hook tied using Uni-knot.
BAIT       Attach the jack mackerel (aka yellowtail) livebait by passing the hook through the nose and not the dorsal fin. This way they swim better and are presented to the kingfish more naturally, who gulp them down head first.
Much of this gear is available online through Epic Adventures.
HOW TO GET THERE
DESTINATION

FROM

 

Auckland CBD

Taupo

Tauranga

Whitianga

2h 28m (191 km)

3h 35m (287km)

2h 25m (167km)

Tairua

1h 52m (151 km)

2h 59m (247km)

1h 49m (127km)
EPIC ADVENTURES CONTACT DETAILS
Contact Epic Adventures, Tairua and Whitianga, New Zealand
Phone 0800 EPICNZ or +64 21 886 223
Email info@epicadventures.co.nz
See the full version of this review in Trade-A-Boat #251, March / April 2015. Why not subscribe today?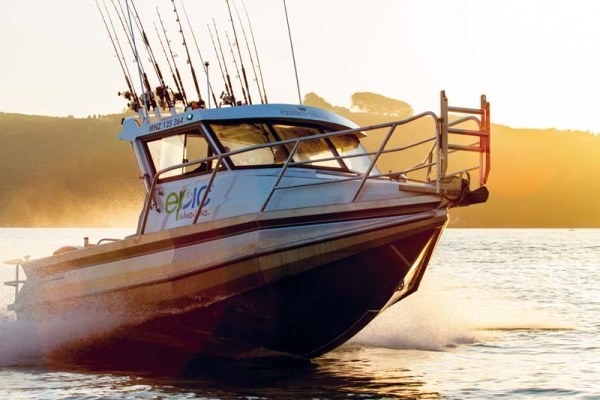 The custom-built Senator RH690 used by the crew. This boat is all business.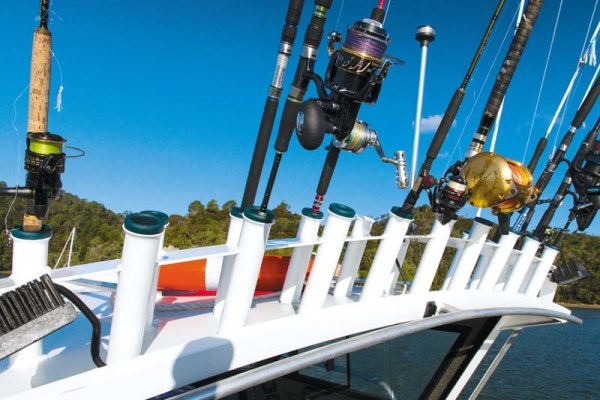 Coro King's impressive 17-rod rocket launcher.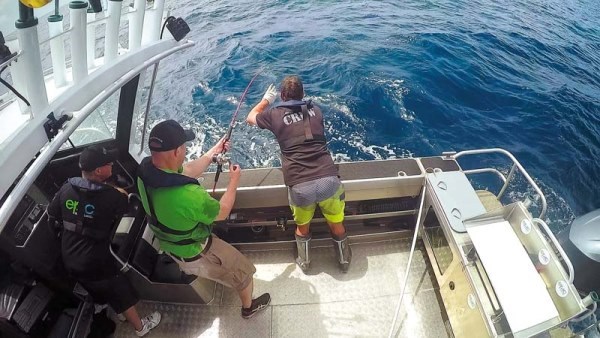 The final moments of Bart's marlin fight before it shook free.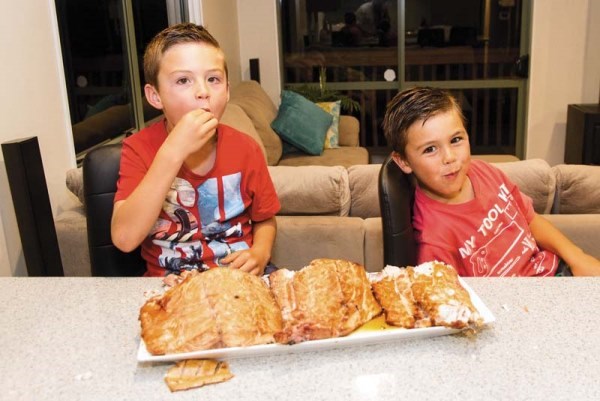 Smoked Kingfish are always well-received at home.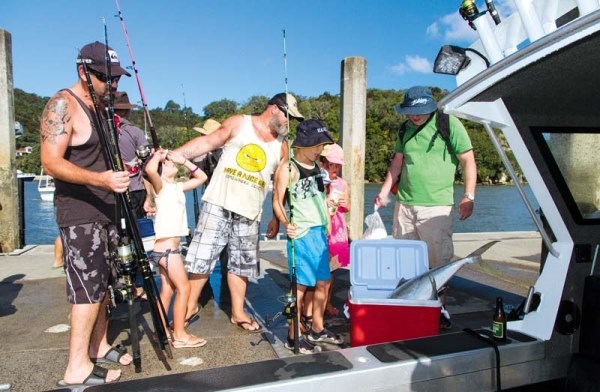 Making people jealous at the dock is what it's really about.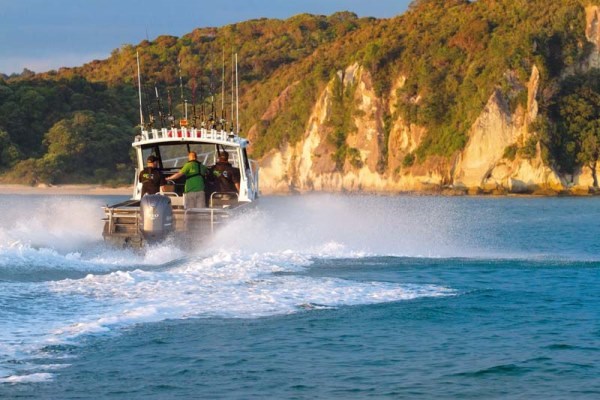 Keep up to date with news from Trade-A-boat or like us on Facebook!